Chile's Central Bank Says It Considered Higher-Than-Expected Rate Hike
(Bloomberg) -- Chile's central bank considered raising its key rate by 150 basis points earlier this month amid stronger-than-expected consumer spending, before settling on a 125-point increase to avoid surprising the market, according to the minutes of the meeting. The Chilean peso was the best performer among emerging-market currencies after the report.
"The decision of this meeting had important communicational and tactical components," policy makers said. "The increase decided on in this occasion could mark the rhythm of future increases."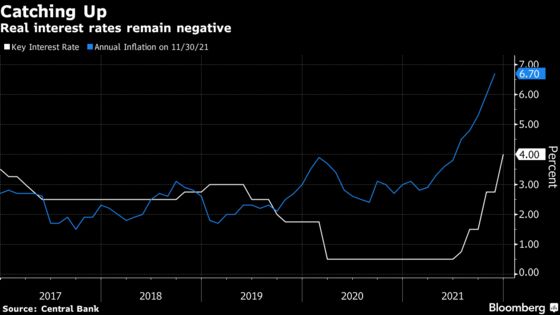 The central bank quickly rejected a 100 basis-point increase, regarding it as insufficient, while considering a 150-point raise more seriously as consumer spending outstripped forecasts made in September. The principal risk of such a steep increase was surprising the market for the third consecutive meeting, policy makers wrote in the minutes published Wednesday.
The peso gained as much as 0.5% against the dollar Wednesday, its strongest level since Dec. 17. One-year swap rates climbed 12 basis points to 5.85%.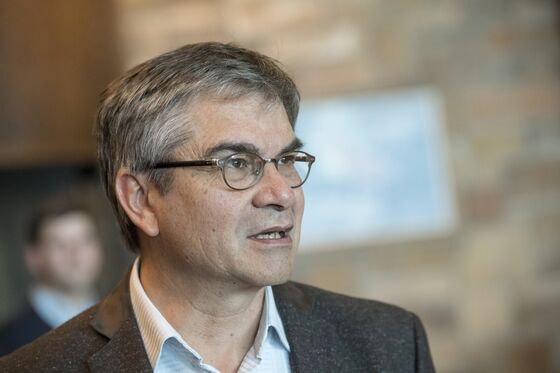 Board members led by Mario Marcel have hiked rates four times in 2021 by 350 basis points to 4%, the highest in seven years, to bring inflation under control. Still, this month it raised its forecast for 2021 inflation to 6.9% from 5.7% and warned that rates will have to remain high for an extended period. Price pressures are being fueled by economic growth that will top 11.5% this year, policy makers forecast. 
In the minutes, the central bank repeated that the key rate would need to reach as much as 6% in the next few months to tame inflation. 
"Given the evolution of the macro-economy and its risks, it's necessary for the key rate to move toward a restrictive level," policy makers wrote.
Workers, flush with cash from early pension withdrawals and emergency aid during the pandemic, have propelled demand for goods from food to cars. Meanwhile, the election of left-wing Gabriel Boric as president this month sent the peso close to a record low before it pared some losses. A weaker peso pushes up the cost of imports. 
Boric won on a platform of improving social services such as health care, education and pensions, which economists fear could jeopardize fiscal stability. Still, after winning the election, Boric reiterated a commitment to fiscal responsibility. 
Chile's annual inflation soared to 6.7% in November, marking the highest level since 2008. Both economists and traders surveyed by the monetary authority see price-growth running above target for the next two years.
Economic growth in Chile will slow to between 1.5% and 2.5% in 2022, according to the central bank.