Chicago Downtown Recovery Plan Seeks Return of Workers, Visitors
(Bloomberg) -- A day before the full reopening of Chicago, Mayor Lori Lightfoot is laying out her plan to draw office workers and visitors back to the center of the city with more outdoor eating, shopping, concerts and art events.
The "Central City Recovery Roadmap" aims to bring back foot traffic to streets, diners to restaurants, shoppers to key retail corridors such as the Magnificent Mile and office workers to high rises. The pandemic, recession and social unrest over the last year pushed those crowds away in cities across the country, but Chicago, particularly its downtown, became emblematic of these challenges.
Among the goals of the plan: to fill trains and buses for workday commutes, boost foot traffic, reduce vacancy rates for retailers and hotels to pre-pandemic levels, attract more businesses, regain lost jobs and spur more affordable housing in the heart of the city.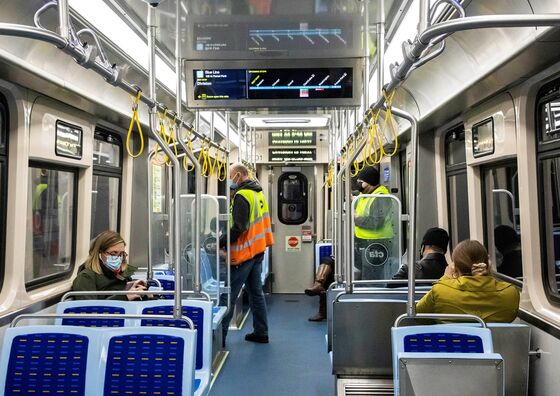 As the metropolis prepares to fully lift Covid-19 restrictions on Friday, the report lays out the economic devastation of the pandemic. Pedestrian traffic dropped about 80% by the spring of 2020 and hotel occupancy plummeted to 20%; the jobless rate in the nation's third-biggest city topped 12% last summer, up from 3.8% before Covid-19 hit; and by year-end, unleased office space downtown hit a record 21.4 million square feet. More than a fifth of retail space on the Magnificent Mile, known for shopping and attracting tourists, is now vacant, according to Cushman & Wakefield.
"Our city cannot fully bounce back from the pandemic until the cultural, retail and financial engines that power our economy are able to return at full capacity," Lightfoot said in a statement Thursday.
The junk-rated city needs those engines to rev up again to bring back lost jobs and revive tax revenue after the pandemic exacerbated long-standing problems. Chicago's tax base has been shrinking with years of population loss. Unfunded pension liabilities have grown to more than $30 billion, and the budget deficits over the last decade have widened.
Some of the near-term stress will be allayed by the roughly $1.9 billion the city is set to receive from the American Rescue Plan. Some of those funds may be earmarked for the central area's recovery with approval from the city council, Deputy Mayor Samir Mayekar said in an interview.
Bringing back visitors for business or leisure is key. In 2019, tourism alone generated $16 billion in spending by 57.7 million visitors, contributing $1.1 billion in tax revenue and supporting 150,000 jobs, according to the report.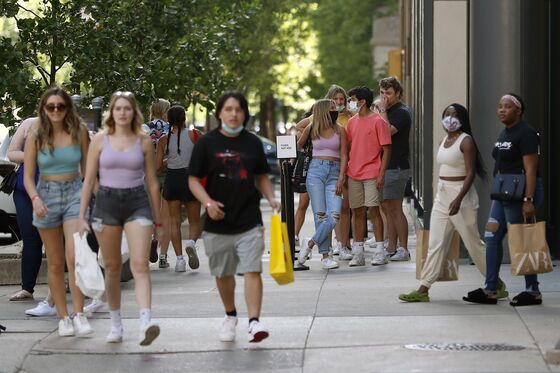 The city can look forward to an important milestone in a bit over a month. The Chicago Auto Show is scheduled to kick off in mid-July at McCormick Place, the biggest conference space in North America, marking the first large convention in the city since the pandemic began.
The recovery plan, which updates a previous proposal from mid-2020, is focused on adding to that momentum. Chicago plans to offer grants to help businesses and organizations open streets for outdoor dining, arts, walking and biking as well as to re-open shuttered performance venues. It also will expand plans and policies for outdoor dining that began last year and explore offering shopping outside in certain areas.
Given the struggles of brick-and-mortar retailers that worsened during the pandemic, the city is working with local associations to address changing real estate demands and to adapt regulations for use of space. Areas of focus include the Magnificent Mile on Michigan Avenue, the city's financial district on LaSalle Street and the Loop's State Street corridor.
To bring back crowds, new citywide festivals as well as hundreds of free events such as movies in neighborhood parks are scheduled through October.
Given lingering concerns after protests and looting last year, the plan also includes community policing and sharing of surveillance information between businesses, the city and police.
Officials also plan to push property owners and developers to build more affordable housing.
"A year from now we want to see more people back to work," Mayekar said in the interview. "We want to see the start of bending the curve on retail vacancy rates and certainly want to see that excitement from tourists who love exploring the central city."