Cash Rules Everything Around the Bond Markets
Cash Rules Everything Around the Bond Markets
(Bloomberg Opinion) -- What do strategists at two of Wall Street's largest banks, Goldman Sachs Group Inc. and JPMorgan Chase & Co., have in common with the legendary hip-hop group Wu-Tang Clan? For all of them, cash rules everything around.
The easiest and safest investment has long been a loser in the post-crisis era. But with just about a month until the end of the year, cash and cash-like assets are pretty much the only area of the U.S. fixed-income markets set to deliver positive returns in a period that could end up being the worst for the broad market since 1994 (coincidentally, the same year Wu-Tang's "C.R.E.A.M." was released). The Bloomberg Barclays U.S. Aggregate Bond Index is down almost 2 percent in 2018, while short-term debt ranging from one month to one year has climbed by 1.7 percent. Equities haven't fared much better, especially as of late: The S&P 500 Index at one point on Tuesday slid 10 percent below its record close as a rout in technology shares deepened.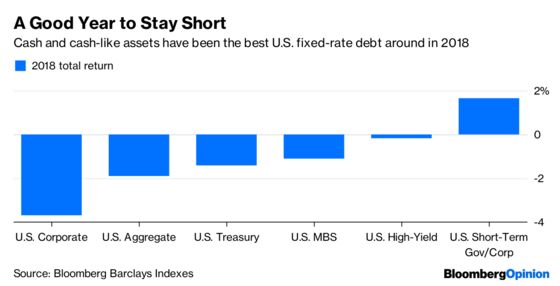 It's not as if the appeal of cash came out of nowhere. The Federal Reserve has been steadily raising interest rates for almost two years now. In June, I wrote about how U.S. investors were flocking to money-market funds not in a flight to quality but because they were paying more than they have in years. At that time, the rate on three-month Treasury bills was 1.92 percent. On Tuesday, it reached 2.38 percent, the highest since January 2008.
For some bond investors, the increase in yields across the curve has been a painful experience. But for those buying the shortest-dated maturities, the slow-but-steady climb is ideal because portfolio managers consistently reinvest at ever-higher rates. It's similar to buying U.S. floating-rate notes, which have paid out greater amounts during the Fed's tightening cycle and have gained about 2 percent year-to-date.
Given this performance, Wall Street is starting to take a second look at cash, which only recently has steadily paid enough to keep pace with inflation. Goldman strategists led by David Kostin wrote in a report on Monday that "cash will represent a competitive asset class to stocks for the first time in many years" given that they expect the S&P 500 will provide "a modest single-digit absolute return" next year. JPMorgan strategists led by Nikolaos Panigirtzoglou wrote the following on Nov. 16, noting that cash in the U.S. pays more than the 2.21 percent yield on the Bloomberg Barclays Global Aggregate Bond Index:
"For nine years since the Lehman crisis cash was unattractive for investors yielding close to zero and well below the yields of other asset classes such as bonds. This changed this year ... There is no benefit for a USD based investor to invest in global fixed income on a currency unhedged basis and bonds had to be repriced enough this year to entice other investors … This asset repricing driven by higher USD cash yields is not only confined to fixed income. It appears to be spreading to equities also … Unless USD cash yields stop rising this repricing seems likely to continue."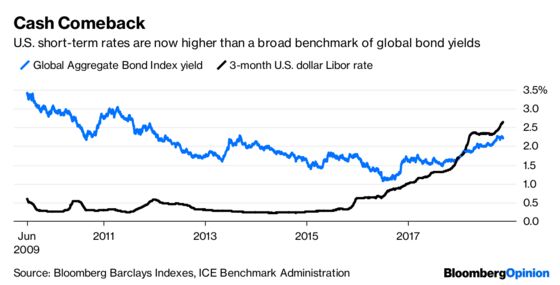 The steady rise in short-term rates continues unabated for now. But it could stop sooner than it seemed just a couple of weeks ago. Bond traders have drastically scaled back their expectations for Fed interest-rate increases next year, now pricing in fewer than 1.5 moves in 2019, down from more than two as recently as Nov. 8. To them, the tone struck in recent days by Fed Chairman Jerome Powell and Vice Chairman Richard Clarida signals that policy makers will be much more data-dependent and will factor in the global growth outlook into their decisions. I happen to think that's the wrong takeaway, but it was enough to get BlackRock Inc.'s Rick Rieder on Tuesday to send out an intriguing short tweet: "#Fedpause?"
Whatever the Fed decides, cash looks as if it will at least remain competitive with other assets, if not beat them outright. It's also worth remembering that just this week, Ray Dalio of Bridgewater Associates said to expect "low returns going forward for a long time." The prospect of minimal gains, or even losses, in both stocks and bonds has to be harrowing for investors like pension funds that count on lofty long-term return expectations. Given that backdrop, it's easy to see why Goldman is now advocating that mixed-asset investors increase their allocations to cash to provide solid, if unspectacular, performance.
Unless something goes horribly wrong in markets, U.S. money-market funds are never going to be a long-term winner. But at this moment, cash is king, and nothing out there looks like a serious challenger for the throne.
To contact the editor responsible for this story: Daniel Niemi at dniemi1@bloomberg.net
This column does not necessarily reflect the opinion of the editorial board or Bloomberg LP and its owners.
Brian Chappatta is a Bloomberg Opinion columnist covering debt markets. He previously covered bonds for Bloomberg News. He is also a CFA charterholder.