BT in Talks to Use OneWeb Satellites for Rural Internet Push
BT in Talks to Use OneWeb Satellites for Rural Internet Push
(Bloomberg) -- BT Group Plc and government-backed satellite startup OneWeb are discussing ways of collaborating to connect the remotest parts of Britain to broadband.
The companies are in the early stages of studying how broadband beamed from satellite constellations like OneWeb's might be used to reach homes that are too expensive to connect using terrestrial cable or wireless networks, according to people with knowledge of the talks.
Customers in far-flung places like the Scottish Highlands have been beyond the economic reach of fiber and mobile masts. The U.K. has long struggled to supply rural areas with even basic internet speeds, while 2025 national upgrade targets set by the government appear likely to be missed.
"We're looking at being able to support telecom companies around the world," said a OneWeb spokesman, who confirmed the early-stage talks with BT and said nothing has yet been agreed.
A representative for BT declined to comment.
London-based OneWeb, a rival to Elon Musk's Starlink satellite network, has launched 110 out of a planned 648 fridge-sized satellites into low-earth orbit. The company said recently it could start connecting U.K. customers and others in northern regions by the end of this year.
Prime Minister Boris Johnson has pledged extra subsidies to bring gigabit-per-second connection speeds to the whole country. Successive pandemic lockdowns have underlined the importance of faster broadband in the emerging digital economy.
Yet fair and cost-effective solutions have proved elusive and talks continue between government and industry to overcome the hurdles. The lack of progress drew a stinging rebuke from a parliamentary committee last month.
BT is under pressure to lead the charge as the former national monopoly has the biggest fixed-line network.
The company suspended its dividend last year to help find 12 billion pounds ($16.4 billion) to upgrade its network from copper to fiber optics. But many properties still don't even have basic connections, and there is no funding arrangement for premises which would cost more than 3,400 pounds to hook up. For many rural homes, the bill would be several times higher.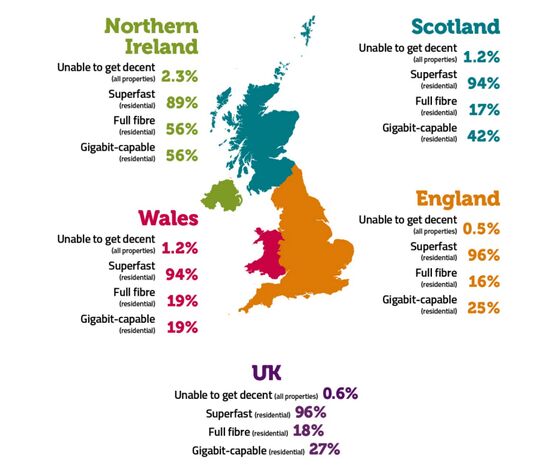 A deal with Britain's dominant phone company could boost OneWeb's credibility and help to justify the U.K. government's decision to spend $500 million of public funds to rescue the satellite venture from bankruptcy last year, despite reservations from civil servants.
OneWeb faces a growing competitive threat from Musk's Starlink constellation, which received a license in November from British regulator Ofcom. His Space Exploration Technologies Corp. has already launched about 1,000 Starlink satellites and has started trialling direct-to-consumer services around the world.