Brazil Assets Sink as Political Risk Flares Up Amid Protests
Brazilian Assets Sink as Political Risk Flares Up After Protests
(Bloomberg) -- Brazilian assets tumbled on Wednesday, leading global losses, as President Jair Bolsonaro's fiery rhetoric in protests the day before prompted a harsh response from the nation's top court and muddied the country's political and economic outlook.
The real fell 2.7%, the worst performing major currency, while stocks sank 3.5% to the lowest in more than five months. Brazilian markets were closed Tuesday for the country's Independence Day holiday, when thousands of Bolsonaro supporters marched in pro-government demonstrations with slogans against the top court and calls for military intervention.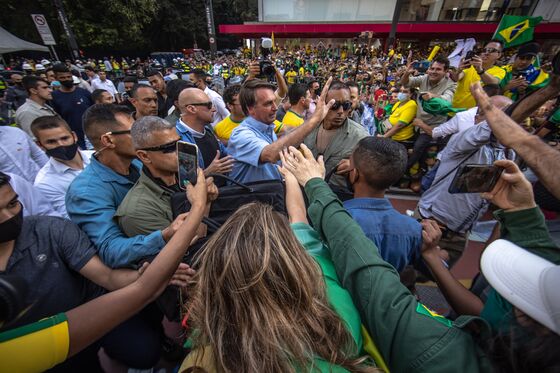 Bolsonaro, who spoke before massive crowds in Sao Paulo and Brasilia, hurled strong criticism at the Supreme Court and electoral authorities. The President has been sparring with the top court over what he says are rulings beyond its authority, and with electoral authorities over unsubstantiated claims of voter fraud. 
"We will no longer accept that people like Alexandre de Moraes continue to lash out at our democracy and disrespect our constitution," Bolsonaro said in Sao Paulo, referring to the Supreme Court justice who has authorized probes against the president and his allies for alleged attacks against democracy. "I will never be jailed." 
Supreme Court Chief Justice Luiz Fux issued an equally harsh response on Wednesday. In an eight-minute statement at the start of the session, Fux said "no one" will close down the Supreme Court, as Bolsonaro supporters often demand, and asked that the president and his backers stop threatening justices and undermining democracy with false narratives. 
"The Supreme Court will not tolerate threats to the authority of its decisions. It represents an attack on democracy," he said, adding that if such an attitude could constitute a so-called crime of responsibility, which serves as basis for impeachment in Brazil. 
Bolsonaro's "fiery rhetoric" will likely deepen tensions between the president and the courts, political consultancy Eurasia said in a note Tuesday evening. It might also make it more difficult for the government to find a coordinated solution with judges to gridlock caused by court-ordered payments scheduled for 2022, seen as key for the country's fiscal outlook. 
"The political noise will remain high in Brazil," said Greg Lesko, a portfolio manager at Deltec Asset Management in New York. "Local tensions are hitting Brazil in a bad day for emerging markets in general."
The protests also prompted louder calls for Bolsonaro to be impeached. Sao Paulo's center-right governor, Joao Doria, an ally turned political rival, said publicly for the first time he supports the president's ouster. The leadership of his party, the PSDB, said it will meet to discuss a position on the opening of impeachment hearings. 
The president's ouster is a path that still has a very low probability of success given his alliance with key parties in congress. The three centrist parties that came out in favor of at least discussing the possibility of removing Bolsonaro -- Solidariedade, PSDB and PSD-- have 81 congresspeople between them. Even adding around 110 lawmakers from the opposition, the total is still well below the 342 needed to remove a president. 
"There will be an increase in the number of parties in favor of opening the process, and it will become no longer just an agenda for the opposition", said congressman Paulo Pereira da Silva, who heads Solidariedade.
Bolsonaro, who's up for re-election in 2022, has grappled with falling popularity amid high unemployment, a surge in inflation and an energy crisis. But he retains a base of core supporters, which turned out in force in Tuesday's protests. 
Brazil Traders Caught Between Inflation Hawks and Spendthrifts
The government saw the demonstrations as a success, according to two people with access to the president who asked not to be named discussing private matters. The president got ample TV time and has found an agenda that mobilizes his supporters, the people said, adding that he doesn't expect much more significant pushback.
Arthur Lira -- a key ally who as lower house chief would be in charge of kicking off impeachment proceedings -- said on Wednesday there was "no room" for radicalism and that the country's constitution would be respected. Although he called for an end to the escalation of rhetoric, he stopped short of criticizing Bolsonaro by name.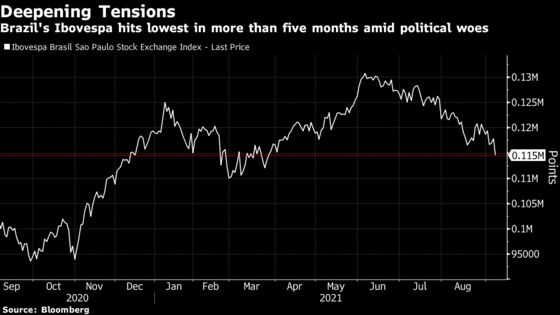 "Not only is it hard to impeach a president with 30% approval ratings, but lower house speaker Arthur Lira remains on board with the administration," Eurasia said in a note before Lira's statement. 
While the government doesn't believe an impeachment process has chances of moving forward, it expects its agenda to face more difficulty in Congress, one person said. The economic team also foresees more hurdles ahead, starting with the court-ordered payments known as precatorios, two other people said. 
Economy Minister Paulo Guedes had been working with the Supreme Court to allow the government to fit some 90 billion reais ($17 billion) in precatorios into next year's budget. But Bolsonaro's attacks made continuing negotiations almost impossible, according to the people, who asked not to be named because discussions are private. The alternative will be to move forward in Congress with a bill that could authorize the government to pay the debts in installments in as much as 10 years, the people said. 
The precatorios bill and other items on the agenda, such as tax and administrative reforms, may move forward in the lower house, where Lira has been working with Guedes, but things tend to get harder in the Senate, one person said. Senate chief Rodrigo Pacheco has suspended this week's sessions following the demonstrations.
"Markets are expecting the escalation of the political tone to harm the economic agenda," said Thomas Gibertoni, an analyst at Portofino Multi Family Office. "If the temperature keeps rising, we probably won't see anything else go to a vote."