Brazil to Keep $190 Billion Cash Cushion to Face Turbulence
Brazil to Keep $190 Billion Cash Cushion to Face 2022 Turbulence
(Bloomberg) -- Brazil's government plans to keep a cushion of at least 1 trillion reais ($190 billion) in cash next year to face local debt maturities as it braces for possible market turbulence in the run-up to presidential elections, according to Treasury Secretary Jeferson Bittencourt. 
The Treasury had a hard time in 2020, when investors concerned with President Jair Bolsonaro's big spending plans to fight the pandemic had little appetite for anything other than short-term government bonds. Average debt maturities fell to 3.3 years last year, hitting a pandemic low of just 2.1 years in October -- from 4.8 years in 2019.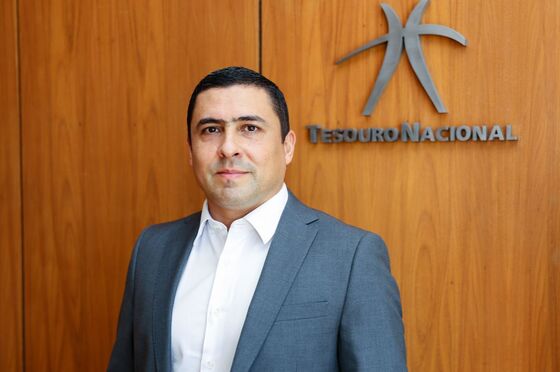 This year, the Treasury has been able to lengthen average debt maturities back to almost 5 years, while keeping 1.23 trillion reais in cash for debt management, according to the latest available data from August.  
"It was not easy to raise our liquidity cushion when there was still concern with the pandemic," Bittencourt said in an interview on Friday. 
For years, the Treasury had kept enough cash to pay down the equivalent of six to nine months of upcoming debt maturities. As public spending and market volatility increased during the pandemic, it has sought to increase that cushion to cover 12 months of maturities. Currently, the cash at hand covers nearly 11 months of debt coming due. 
The Treasury has also started giving more transparency to its cash position. The cushion stood at about 806 billion reais in January, when it began releasing the data.
Crucial to boost that amount was a bill approved by congress this year allowing the Treasury to add to its coffers 165 billion reais from unused funds that were supposed to finance government policies in areas such as telecommunications. Another 30 billion to 40 billion reais from those funds will be absorbed by the Treasury by end-2022. 
Bittencourt is optimistic about Brazil's fiscal outlook despite concerns about how the government intends to finance a new social program that Bolsonaro wants to launch by year-end. In order to find budget space for the program without breaching the country's fiscal cap rule, the government needs congress to approve a bill that limits payments ordered by the courts after the state lost legal cases, known as precatorios. 
Brazil has budgeted 89 billion reais in precatorios to be paid next year, but the bill being negotiated with lawmakers would lower that figure, potentially freeing up 47 billion reais for other expenditures, according to Bittencourt. The new social program would consume 27 billion reais of that amount.    
"We're facing this year our biggest fiscal challenge for 2022, which is to build a solid budget," he said, adding that breaching the spending cap to pay for the the social program isn't an option: "That would open a discussion to exclude other things from the rule at a moment when Brazil needs to resume fiscal consolidation."
Brazil's federal debt reached 5.5 trillion reais in August, compared with 4.4 trillion reais a year ago, the Treasury said in report released Monday, adding that investor concerns about the country's fiscal situation has pushed up bond yields in the long end of the curve. 
The electoral year won't be an obstacle for Brazil to sell bonds abroad, he said, because volatility in external markets is what determines when to issue debt and Treasury is always looking for a window of opportunity. 
Brazil also continues to work on its plan to sell environmentally and socially responsible bonds. The Treasury is identifying programs that could be financed through an environmental, social and governance bond program and intends to have a framework for the issuance of such ESG bonds concluded by the second quarter of 2022.