Brazil Economy Risks Extending Recession as October Disappoints
Brazil Economy Risks Extending Recession as October Disappoints
(Bloomberg) -- Brazil's economy had a bad start to the fourth quarter, underscoring risks of an extended recession as policy makers further tighten monetary policy to battle above-target inflation. 
The central bank's economic activity index, a proxy for gross domestic product, fell 0.4% in October from the prior month, in line with the median estimate from economists in a Bloomberg survey. September's reading was revised down to a 0.46% decline. From a year ago, activity plunged 1.48%, more than double the drop estimated by analysts, the bank reported on Wednesday.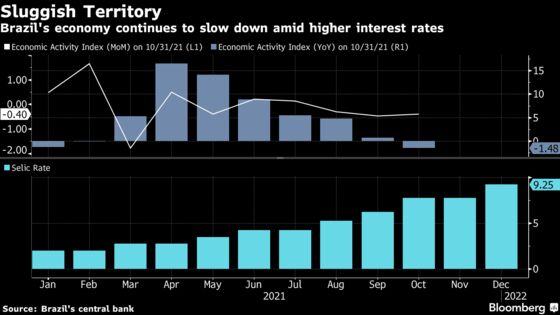 Latin America's largest economy is losing momentum in the aftermath of the pandemic, even as businesses reopen and most of the population is vaccinated against Covid-19. With the annual inflation rate at an 18-year high, activity has shown signs of continued malaise, and both industrial production and services posted unexpected drops in October.  
What Bloomberg Economics Says

"Another decline in Brazil's economic activity indicator, coupled with continued weakness in confidence indicators and tightening financial conditions, flags the risk of negative growth for a third consecutive quarter. That won't alter the central bank's strategy to 'significantly' tighten monetary policy, though." 

-- Adriana Dupita, Brazil and Argentina economist

Click here for the full report.
Policy makers remain committed to bringing inflation expectations back to target even if that means tightening monetary policy to "significantly restrictive" territory. In their last monetary policy meeting, they considered keeping interest rates higher for longer, even as they acknowledged activity is "slightly slower than expected". 
A new round of fiscal stimulus deployed by President Jair Bolsonaro may provide a boost to the economy, although analysts expect inflation to continue weighing down activity. 
"High double-digit inflation, rising interest rates, supply-chain disruptions impacting the manufacturing sector, heightened political noise and policy uncertainty, and the erosion of consumer and business confidence are generating visible headwinds to activity," Alberto Ramos, head economist for Latin America at Goldman Sachs Group Inc, wrote in a research note.