Boston Beer Tumbles After Pulling Outlook Amid Seltzer Woes
(Bloomberg) -- Boston Beer Co.'s shares fell after the company withdrew its annual forecast, citing a severe and unexpected slowdown in the hard seltzer market.
Backing away from the guidance issued in July, the maker of Samuel Adams beer and Truly Hard Seltzer said its full-year diluted earnings per share will fall below the prior estimate of $18 to $22. It also expects to incur hard-seltzer-related inventory write-offs and shortfall fees payable to third-party brewers, according to a statement.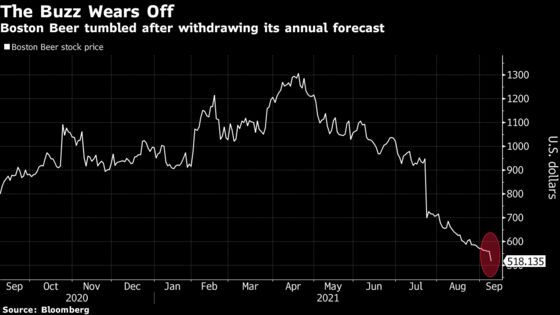 "The market for hard-seltzer products has continued to experience decelerating growth trends" since the July forecast, the company said in the statement late Wednesday. Industrywide volumes could be more than 100 million cases fewer than predicted in May, Boston Beer said. "We believe there will be continuing uncertainty about hard-seltzer demand trends for the remainder of 2021."
One of the hottest alcohol categories early in the pandemic, hard-seltzer sales have slowed considerably of late as the market has become saturated and consumers have turned to other offerings. Molson Coors Beverage Co., which has launched three hard-seltzer brands since March 2020, recently announced it would discontinue its Coors-branded seltzer.
Boston Beer shares tumbled 7.7% to $516.44 at 10:43 a.m. Thursday in New York, near the lowest level since June 2020. The stock has lost nearly half its value this year.
The decision to pull guidance prompted price-target cuts from several analysts, including MKM Partners' William Kirk and RBC Capital Markets analyst Nik Modi. Bernstein analyst Nadine Sarwat still has a bullish view on hard seltzer, but said in a note that it could be "a bumpy next 3-6 months" for Boston Beer.