Bitcoin Miners Facing Double Whammy of Reward Cuts After Plunge
Bitcoin Miners Facing Double Whammy of Reward Cuts After Plunge
Companies whose computers make the Bitcoin network operational are facing deep cuts to profits.
With Bitcoin's price down almost 40% this month to $5,350, so-called miners whose computers provide a third of all the power for the network, have gone into the red, said Chris Bendiksen, head of research at digital-asset manager CoinShares. The decline couldn't have come at a worse time. In May, rewards in the form of new coins issued to miners will automatically drop in half, further exacerbating losses unless the price rallies.
For years now, such regularly scheduled Bitcoin halvenings, or halvings, have been looked forward to. Many investors have claimed that the cryptocurrency rallies right before and after them, so the miners would stay afloat. So far this year, these expectations have proved false.
"It just really damages the Bitcoin halving narrative that people have been making,"said Ryan Watkins, an analyst at crypo research firm Messari. "People were expecting price increases either before or after the halving, whereas now it seems like the exact opposite is going to happen."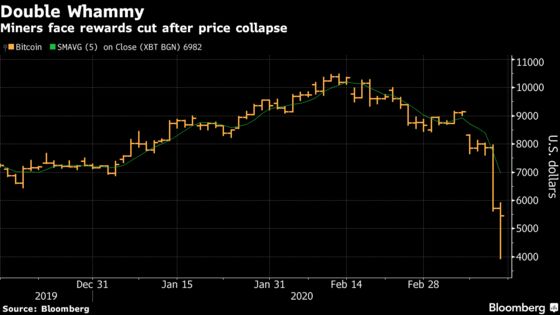 Because miners typically sell a portion of Bitcoins they receive as rewards to cover operating costs, their financial woes could potentially put further pressure on the price. When miners expect the price to rally, they often keep a larger portion of their earnings in Bitcoin. In a down market, they may increase their sales.
Bitcoin's price has to be around $7,400 for an average miner to be profitable, said Chris Bendiksen, head of research at CoinShares. An average miner becomes cash-flow negative around $4,500, he said. Even so, many are unlikely to shutter their facilities right away as expectations for a rally live on. If that doen't occur, many will close after the halvening occurs, he said.
"The miners that have predominantly new gear, they are probably fine," Bendiksen said. "But then you have the previous generation ones, they are starting to sweat a little. If the prices remain like this, the halving will finish them off."
Already, Bitcoin's hash rate, as the combined mining power on the network is known, dropped nearly 20% in the last 24 hours, according to tracker Blockchain.com.
"Based on our estimates, anyone using Antminer S9 or older generation miners is unprofitable unless their power cost is lower than 4 cents/kWh," said Sale Irwin, chief executive officer of Greenidge Generation LLC, which runs a mining farm. "The drop in hash rate over the past 24 hours can be attributed to this dynamic, especially given the widely-accepted assumption that S9 miners still constitute the majority of miners in operation."
Because Greenidge has low energy costs and new gear, it can weather fluctuations in price, he said.
As miners shutter operations, that could also decrease security of the Bitcoin network. Miners' machines are used to confirm Bitcoin transactions, and when fewer miners are safeguarding the network, it can be easier for a few bad actors to start double-spending coins, for example.
Not only miners, but related industries are suffering as well. Upstream Data Inc. builds mines and containers for mining servers for oil-and-gas companies, which use their excess energy to mine Bitcoins.
"The price has dropped, the halving is coming," Steve Barbour, owner of Upstream, said in a phone interview. "If the price doesn't recover, it's a double whammy on revenues."
To contact the reporter on this story: Olga Kharif in Portland at okharif@bloomberg.net
To contact the editors responsible for this story: Jeremy Herron at jherron8@bloomberg.net, Dave Liedtka, Brendan Walsh