Bitcoin Bounces Back From September Crash
(Bloomberg) -- Bitcoin gained the most since before last month's flash crash, while Ethereum rallied even more as developers gathered at the biggest conference for the community behind the second-largest cryptocurrency.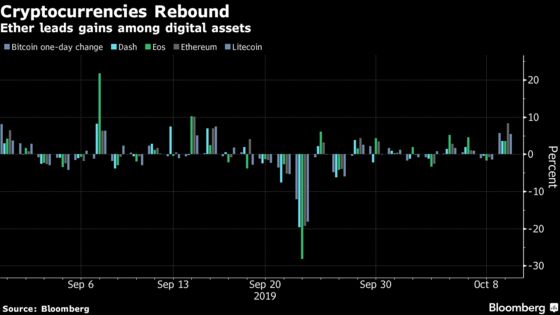 The rally is partly the result of an update on the development on next-generation Ethereum network and new financial apps at the Devcon conference in Japan that started yesterday, according to Josh Lim, head of trading strategy at Galaxy Digital.
"Volumes have been a little bit lackluster since the sell-off," Lim said. "But today, and starting over the last week, we've seen a resurgence of interest in alt-coins. The leaders in that regard have been Ethereum and Ripple."
Bitcoin gained as much as 6.6% to $8,662, while Ether jumped as much as 9.7% to $191.81.
Lim said the rally could potentially have legs, with Bitcoin going into the low $9,000s.
Some technical measures followed by traders support the argument. Based on the GTI Vera Convergence Divergence Indicator, it appears Bitcoin is about to trigger a buy signal as the Vera line poised to cross the signal line, which could trigger a rally in the largest cryptocurrency. This would be the first buy signal in about a month, potentially ending the longest selling trend since August.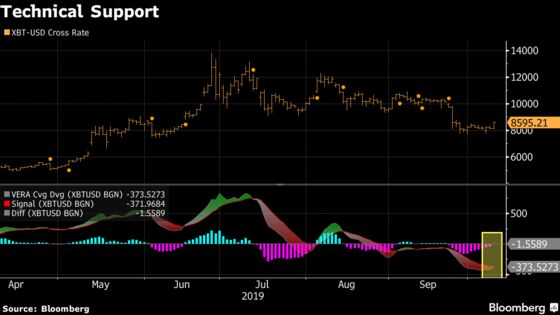 Tuesday's rally follows a rut that started in June and deepened on Sept. 19, reducing the market value of cryptocurrencies by about 40% as the escalation of the trade conflict between the U.S. and China boosted risk aversion.
"We are starting to see more demand pick up in the market," Lim said. "We've heard a lot of buyers coming out of emerging market economies. There is certainly some interest coming out of Latin America, there's a lot of unrest in other parts of the world. "