Bitcoin 'Bart Simpson' Trading Pattern Returns With Volatility
Bitcoin 'Bart Simpson' Trading Pattern Returns With Volatility
(Bloomberg) -- Bitcoin's quick rise and subsequent fall this week had some investors scratching their heads.
The world's largest digital token breached the $10,000 level this week but fell below it shortly after, forming a so-called "Bart Simpson" pattern. Named for its resemblance to the cartoon character's hairstyle, the pattern traces an upward swing, some uneven -- or spiky -- sideways trading, followed by a swift drop.
The pattern has a higher probability of establishing when it comes to cryptocurrencies due to significant short-term changes in demand, increasing use of derivatives and shifts in correlation to and from traditional assets, says Marc Grens, co-founder and president of DigitalMint.
"As a result of substantial short-term shifts and increases in liquidity, this pattern will continue to rear its Bart Simpson head several more times during the current global recession and potential recovery following the lockdown orders," said Grens.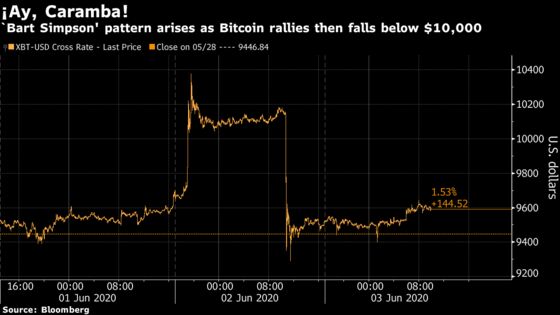 It's a familiar occurrence for Bitcoin, one noticed by investors time and again during volatile trading stretches. Many were quick to point it out on Twitter, superimposing Bart's famous head shape over a chart of the token.
Bitcoin rose as much as 1.3% Wednesday to trade around $9,544 as of 11:55 a.m. in New York. It's up more than 30% for the year. The Bloomberg Galaxy Crypto Index, which tracks some of the largest cryptocurrencies, also gained. The index advanced as much as 1.7% in Wednesday's session and is up 40% in 2020.
Get Your
Daily Newsletter
Get market moving news, top news & compelling perspectives
---