Job Market Paradox: States Got a Record Rescue But Aren't Hiring
Job Market Paradox: States Got a Record Rescue But Aren't Hiring
05 Jun 2021, 12:56 AM IST
(Bloomberg) -- In making the case for its $350 billion lifeline to U.S. states and cities, President Joe Biden's administration emphasized a key figure: Over one million government jobs were lost during the pandemic -- and the money would help bring them back.
On Friday, the jobs report showed there's still a long way to go to reach that goal.
While state and local governments added about 78,000 jobs to their payrolls in May, it was driven exclusively by schools, which have been bringing workers back as they reopen for in-person learning.
Outside of education, they actually cut employment, leaving overall payrolls about 1.19 million jobs slimmer than they were before the pandemic hit. That's more than were lost in the years that followed the Great Recession.
The slow jobs recovery for states and cities appears out of sync with their finances, which have mended due to federal stimulus efforts that spurred the economy and provided them with aid.
But it may reflect the slow pace at which many governments move, in part because their ability to hire is often determined by annual budgets approved by legislatures and city councils.
Christiana McFarland, research director for the National League of Cities, said the aid may not have a strong impact on public sector employment for a couple of months as governments figure out how to spend relief funds.
"We're very pleased to see this massive infusion of funds," she said. "But cities need to be strategic about it, and that's certainly what we're encouraging."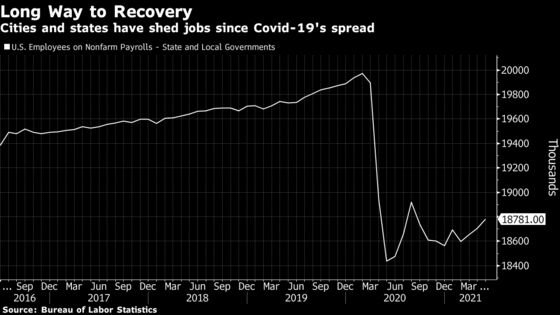 Another factor: many of the employees laid off or furloughed last year may have retired or found new jobs in the private sector, said Nicholas Economides, an economics professor at New York University's Stern School of Business.
"There will be delays. Every job to be filled requires a matching, and that is not so trivial," he said. "The main point is that it will take some time, maybe until the end of they year, until we see the full recovery in those public sector jobs."
Treasury Secretary Janet Yellen and other Biden administration officials have emphasized that the aid is part of an effort to avoid the municipal budget cuts that weighed on the economy for years after the 2007-2009 recession. The Treasury Department's initial guidance on the funds released in May emphasized that governments can use the money to rehire workers.
Teryn Zmuda, chief economist for the National Association of Counties, said the aid will be "critical" to restoring local government jobs. She said the impact of counties' plans for the money may be better seen in the June or July jobs reports.
"While we are in the early stages of the State and Local Fiscal Recovery Fund implementation, counties are moving rapidly to inject the dollars into local communities," she added.
Get Your
Daily Newsletter
Get market moving news, top news & compelling perspectives
---