News Corp. Slams Notion of Bertelsmann Buying Simon & Schuster
News Corp. Slams Notion of Bertelsmann Buying Simon & Schuster
(Bloomberg) -- Rupert Murdoch's News Corp. warned that German media giant Bertelsmann AG could have trouble getting regulatory approval to buy Simon & Schuster, which is up for sale in a bidding process wrapping up soon.
"It will clearly be a serious antitrust issue" if Bertelsmann tries to acquire the publisher, News Corp. Chief Executive Officer Robert Thomson said at the company's annual meeting Wednesday. "However cute and clever the structure, if Bertelsmann is a beneficiary, it will be a book behemoth and this will certainly be a profound antitrust issue for the entire book industry and no doubt for authors around the world."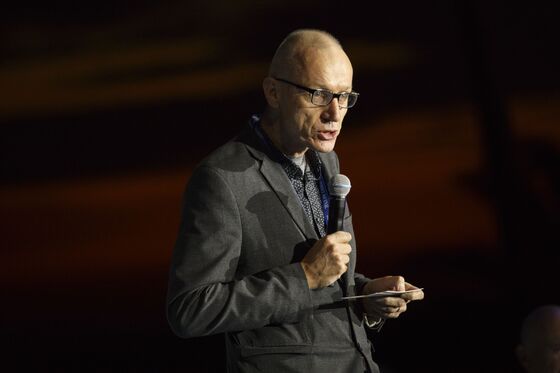 Thomson declined to discuss whether his own company is bidding for Simon & Schuster -- put on the block by ViacomCBS Inc. -- calling it "speculation and scuttlebutt." But people familiar with the matter have said that both Bertelsmann's Penguin Random House and News Corp.'s HarperCollins are vying to acquire the property.
Final offers are due before Thanksgiving next week, according to the people, with the price expected to be north of $1.5 billion. The French company Vivendi SA also has shown interest, one person said.
Penguin Random House, the dominant U.S. book publisher, faces a higher hurdle in showing that the deal wouldn't harm competition. Last year, it had about a 24% share of the U.S. book market, while HarperCollins had 11%, according to NPD Bookscan. Simon & Schuster had 9%.
Regulators will take a close look at how concentrated the U.S. book market will become after the sale, said Michael A. Carrier, a professor at Rutgers Law School.
"It seems like the merger would result in four companies, which is concentrated, but might not be concentrated enough for the agencies to challenge it," Carrier said.
Carrier said the merging publishers could claim that they need the deal to keep from being bullied by Amazon.com Inc., the e-commerce giant that got its start selling books.
It's also rare for regulators to try to block deals that shrink an industry from five to four competitors, said Chris Sagers, a law professor at Cleveland State University. Publishing's so-called Big Five includes Hachette and Macmillan, in addition to Penguin Random House, HarperCollins and Simon & Schuster.
"The government is probably going to give this a pretty hard look, but the government is less likely to sue because it's not a four-to-three," said Sagers, who wrote a book about the Justice Department suing Apple and five book publishers for price fixing.
A spokesperson for Bertelsmann declined to comment. "We have stated in the past that Penguin Random House wants to grow organically and through M&A," the spokesman said. "This is still the case."
ViacomCBS and HarperCollins also declined to comment. Vivendi didn't respond to a request for comment.
Murdoch, News Corp.'s chairman, stands to greatly expand his book publishing empire if HarperCollins acquires Simon & Schuster. HarperCollins already has a large international business, with publishing operations in 18 countries. But the company would still have a smaller market share than Bertelsmann if the merger went through.
Simon & Schuster books had a high profile in the run-up to the election, with a string of popular releases that angered Donald Trump, including Bob Woodward's "Rage," John Bolton's "The Room Where It Happened" and Mary Trump's "Too Much and Never Enough." But Simon & Schuster also has published books from the president himself, such as "Great Again: How to Fix Our Crippled America."
It's rare for regulators to block book-publishing deals. In 2013, the Justice Department approved the merger of Random House and Penguin, which at the time gave the combined publisher about 25% of the English-language consumer book market.
In May, however, Cengage Learning Holdings II Inc. and McGraw-Hill Education Inc. scrapped plans to combine after the Justice Department expressed "serious concerns" the deal would harm competition. The transaction would have combined the second- and third-largest U.S. textbook publishers.