Barclays Gets Boost From Dealmaking 
Barclays Gets Boost From Dealmaking 
(Bloomberg) -- Barclays Plc's investment bankers brought in a record haul as the booming deals market extended through the second quarter, offsetting more muted results in trading and helping the group to deliver improved profit and fresh shareholder payouts.
Income from capital markets and merger advisory at the London-based lender rose by almost a fifth to 873 million pounds ($1.2 billion), outperforming the average on Wall Street. This is the highest since Jes Staley took over as chief executive officer in late 2015, strengthening his hand as he tilts the group toward investment banking.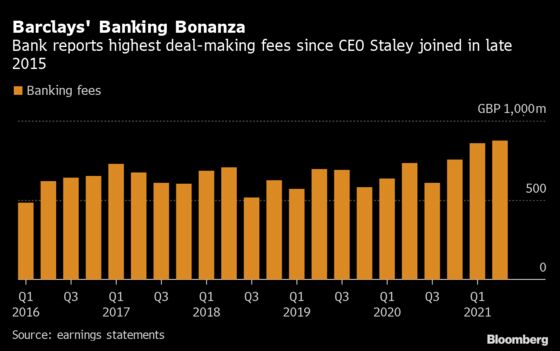 With the economic outlook improving, Barclays said it planned to buy back more shares this year worth as much as 500 million pounds. It also announced a 2 pence per share half-year dividend and said that is expected to represent, under normal circumstances, around one-third of total dividends for the year. The announcement comes weeks after the Bank of England lifted restrictions on payments that were imposed early in the Covid-19 pandemic.
Barclays' domestic retail bank benefited from the economic rebound as Covid-19 restrictions are lifted. The bank released a net 797 million pounds from last year's provisions for loans that could turn sour during the pandemic, joining U.K. peers in unwinding several billions of pounds they booked in the initial stages of the outbreak.
"Credit conditions remain pretty benign; we are not really seeing a pickup in delinquencies or any stress in the environment yet," Tushar Morzaria, finance director, said in a phone interview. "Our expectation is that we should see a pickup in default, but if we don't, then there could be further release far more soon."
Overall, Barclays' results in the second quarter were ahead of forecasts. Shares in the bank rose more than 4% in London trading.
"A solid and reassuring set of numbers," analysts at Citigroup Inc. said in a note to clients.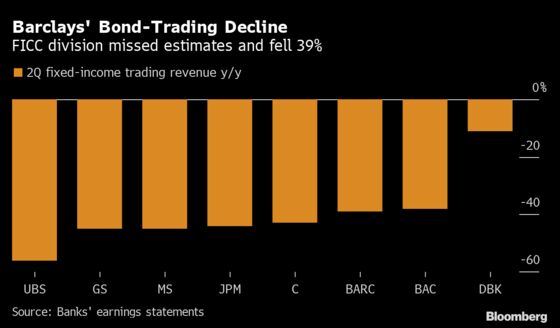 Revenues from trading, though, plunged as the rally in fixed-income markets that drove record profit a year ago petered out -- a trend that caught out many U.S. rivals but largely spared Deutsche Bank AG, which also announced earnings Wednesday.
One of Staley's key targets, return on tangible equity, soared in the quarter and Barclays said this measure was likely to be above its 10% target during this year, after falling short during the pandemic.
What Bloomberg Intelligence Says:

Barclays' 2Q provision release, upgraded expectation for a 10% return-on-tangible-equity in 2021, plan to initiate a further 2021 buyback and significant equities and fee beat more than offset a small FICC trading miss, we believe. As at 1Q, debate will likely return to the level of compensation accrual and underlying run-rate of trading revenue.
-- Jonathan Tyce, BI banking analyst
Barclays also announced a 321 million-pound charge as it cuts back on real estate. The lender said in June it was giving up its second office in London's Canary Wharf financial district, moving traders and bankers into its main headquarters nearby. Morzaria said the bank was still reviewing its branch footprint and is working on moving some staff out of its central offices.
"We have three world class technology and operations centers" in the U.S., U.K. and India, the finance director said. "We will have more folks directed to those world class centers and probably less in central London. This is what we have been working on for a number of years."
Other key figures from Barclays' second-quarter earnings include:
Profit before tax at group level beat expectations at 2.58 billion pounds, against a consensus of 1.7 billion pounds
FICC income down 39% to 895 million pounds; equities income up 15% to 777 million pounds
Consumer, Cards and Payments returned to profit before tax of 288 million pounds, helped by impairment release
CET1 capital ratio was 15.1%; Barclays expects to stay above target of 13-14% next year given uncertain economic outlook
Total operating expenses rose almost 10% to 3.65 billion pounds, affected by property charge