Bank Tied to Tether Goes Quiet on Relationship With Crypto Firm
Bank Tied to Tether Goes Quiet on Relationship With Crypto Firm
(Bloomberg) -- A day after Tether said it had $1.8 billion stored in Bahamas-based Deltec Bank & Trust Ltd., that bank refused to comment on whether it has a relationship with the controversial cryptocurrency company.
Tether, which has faced questions about whether it actually backs its popular namesake digital coins with dollars as it claims, released a letter attributed to Deltec Thursday that said the company has an account with the bank. Deltec spokeswoman Melanie Hutcheson, reached by phone Friday, declined to confirm or deny whether that's true.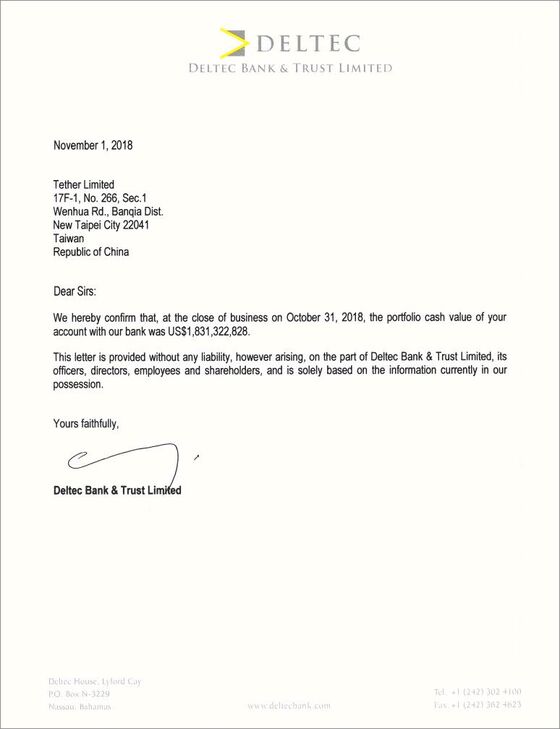 Tether is a so-called stable coin, meaning that it's supposed to be pegged to the U.S. dollar. It has become one of the most traded digital tokens because it can be used to buy other virtual assets on exchanges that don't handle traditional money. But investors have become increasingly concerned about Tether's stability because it refuses to be audited and has kept investors in the dark about its banking relationships.
The letter from Nassau-based Deltec was signed with an illegible squiggle but carried no printed name. The chairman and largest shareholder is Jean Chalopin, who formed the film company that became DIC, which produced well-known children's cartoons including Inspector Gadget, Heathcliff and the Care Bears.
This is not the first time Tether has had to change banks. Most mainstream financial firms don't want to offer their services to cryptocurrency companies due to the risk of breaking know-your-customer and anti-money-laundering rules, or the expense of keeping up with those regulations. Tether and related cryptocurrency exchange Bitfinex lost its relationship with its Taiwanese banks in early 2017 after Wells Fargo & Co. ended its correspondent banking relationship with the Taiwan lenders when it found out Tether and Bitfinex were crypto firms.
The companies then arranged for Puerto Rico's Noble Bank to help connect them to customers, and also used Crypto Capital Corp. as a payment processor. The relationship with Noble ended earlier this year, with the lender now seeking a buyer. Deltec then stepped in for Bitfinex and Tether.
To contact the reporters on this story: Lily Katz in New York at lkatz31@bloomberg.net;Matthew Leising in Los Angeles at mleising@bloomberg.net
To contact the editors responsible for this story: Catherine Larkin at clarkin4@bloomberg.net, ;Jeremy Herron at jherron8@bloomberg.net, Dave Liedtka, Brendan Walsh