Bank of Canada Fills In Mandate Blanks Amid Inflation Discomfort
Bank of Canada Says Price Stability is Primary Goal in Mandate
(Bloomberg) -- Governor Tiff Macklem underscored that price stability is central to the Bank of Canada's renewed mandate and indicated that any new flexibility will apply only at times when inflation is low or the economy is weak.
In a speech Wednesday, Macklem provided more insight into the central bank's new marching orders, which included some leeway to allow inflation to overshoot the central bank's 2% target. Macklem made it clear that flexibility won't apply in situations -- like now -- when inflation is way above target. 
In a mandate renewal released jointly with the Canadian government on Monday, the central bank maintained its 2% inflation target for the next five years, but added a new requirement whereby officials will use their 1% to 3% control range to support employment levels if warranted. The new agreement puts more weight on the inflation range than has been the case in past statements and explicitly introduces the need to consider the labor market.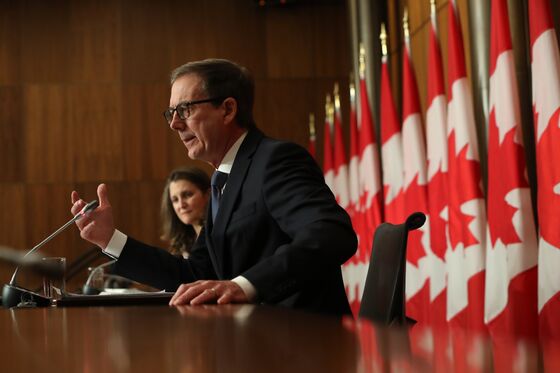 The Canadian dollar slid after the renewal, down all three days this week as some investors saw the new requirements as signaling more tolerance for inflation -- currently at near three-decade highs. But in the speech and ensuing press conference, Macklem said the central bank remains as diligent about price pressures as it has always been.
The conditions that would warrant the central bank to be more tolerant don't exist now, the governor told the Empire Club of Canada via video conference. 
"When might conditions warrant? When inflation is close to target, interest rates are at more normal levels," Macklem said.
Keeping inflation low and stable remains the priority, he said, and the central bank right now is focused on when to drop its pledge to not raise interest rates, what it's been calling forward guidance.
At a press conference after the speech, Macklem noted he wasn't comfortable with current elevated levels of inflation and the "time is getting closer" for policy makers to move away from the forward guidance.
Macklem's comments "leave the door wide open to hiking in January pending omicron developments, jobs data, inflation data and broader developments," said Derek Holt, an economist with Bank of Nova Scotia, in a report to investors. "There is a hawkish undertone."
Markets are pricing in five interest rate hikes next year by the Bank of Canada.
What officials are striving for with the changes is to address broader structural factors that have been taking place, and challenges associated with major downturns, Macklem said.
For example, the long-term trend of falling global rates gives the central bank less firepower in the event it needs to respond to an economic downturn. In such a situation, the central bank would be able to provide more stimulus simply by indicating it is prepared to allow for a temporary overshoot of its target.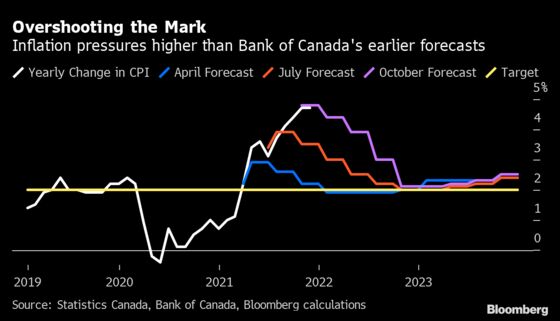 Another challenge for central bankers going forward is the growing uncertainty around gauging when the nation's economy has reached full employment. In situations when inflation is at target, the mandate will allow the Bank of Canada to test the limits of the economy even if it could mean a small uptick in price increases, Macklem said.
"As we move beyond this pandemic and the economy normalizes, uncertainty about maximum sustainable employment will persist," he said. "When conditions warrant, we can probe by being more patient to help us better gauge the level of employment that is consistent with price stability."
Canada's top central banker also said the recent mandate review was its most extensive yet as they also polled the public in addition to doing their own internal analysis. On top of flexible inflation targeting, two other models were considered: a dual mandate and average inflation targeting.
"Overall, flexible inflation targeting was the preferred framework," Macklem said.