Armenia's Downed-Jet Claim Raises Risk in Azerbaijan Fight
Azeri-Armenian Fighting Rages as Putin, Erdogan Split on Truce
(Bloomberg) -- Russia called on Turkey to help end fighting between their respective allies Armenia and Azerbaijan as the conflict escalated for a third day, with disputed claims over the downing of an Armenian jet roiling the lira and the ruble.
Armenia's Defense Ministry said Tuesday that one of its Su-25 jets had been shot down in its airspace by a Turkish F-16 fighter operating over Azerbaijan. Turkey and Azerbaijan swiftly denied the report, but declines in the Russian and Turkish currencies point to mounting concern that the two regional powers could be dragged in on opposite sides of the fighting.
"Any statements about military support or military activity definitely add fuel to the fire," Kremlin spokesman Dmitry Peskov told reporters Tuesday on a conference call before the plane reports. Russia expects all countries and "particularly partner states such as Turkey" to do everything to persuade the warring sides to stop the violence, he said.
The surging tensions over the alleged downing of the jet came after President Recep Tayyip Erdogan pledged Turkey's support "with all its means" for its ally Azerbaijan's military campaign against Armenian forces that erupted Sunday. Erdogan said Monday that international negotiations on Nagorno-Karabakh had "failed to solve this problem for 30 years."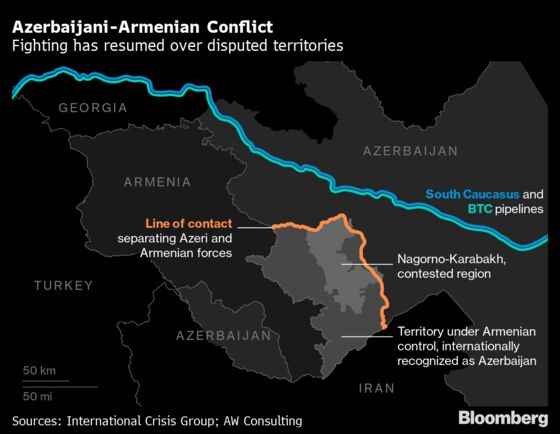 Erdogan's communications director, Fahrettin Altun, told Bloomberg News it was "absolutely not true" that a Turkish jet shot down an Armenian fighter.
The lira weakened as much as 0.5% following the initial report and recouped some of the losses after Turkey's denial, trading 0.4% lower at 7.8400 per dollar as of 5:33 p.m. in Istanbul. The ruble erased gains to trade little changed against the dollar after the news.
Omer Celik, spokesman for Erdogan's ruling AK Party, rejected calls for a cease-fire, saying they effectively amounted to support for Armenia in the conflict.
Russian President Vladimir Putin and Armenian Prime Minister Nikol Pashinyan spoke Tuesday by phone for the second time since the clashes began. Putin reiterated his call for an immediate cease-fire and de-escalation by both sides, the Kremlin said, in a statement that made no mention of the alleged downing of a jet.
The clashes in the Caucasus region bordering Russia and Turkey add to tensions between them over proxy conflicts in Syria and Libya. China, the U.S. and the European Union have urged a halt to fighting, while the United Nations Security Council is holding an emergency meeting on the crisis on Tuesday.
Earlier Tuesday, the Defense Ministry in Baku accused Armenia of shelling Azerbaijani territory across their border and said it was retaliating. Armenia called the claim "absolutely false," and accused Azerbaijan of using drones over its territory.
Armenia's Defense Ministry also issued a warning that it was deploying weapons capable of "indiscriminate destruction of manpower" in Nagorno-Karabakh in response to what it said was Azerbaijan's use of "large-caliber systems."
Despite decades of U.S., Russian and French mediation to resolve the conflict, fighting has repeatedly broken out since Armenians took control of Nagorno-Karabakh and seven surrounding districts from Azerbaijan in a war after the Soviet Union collapsed in 1991.
Russia has an army base in Armenia and the two nations have a mutual-defense pact, though it doesn't cover the disputed territory. Azerbaijan hosted large-scale joint military exercises with Turkish forces last month.
While previous flare-ups have lasted only a few days, the scale of the current fighting involving tanks, aircraft and artillery appears greater than at any time since Russia brokered a 1994 cease-fire to halt the war that killed about 30,000 and displaced more than a million people. The two sides have never signed a peace accord.
The region contains important energy and transport projects that connect central Asia to Europe bypassing Russia. They include the U.S.-backed Southern Gas Corridor link and a BP Plc-operated oil pipeline that runs less than 50 kilometers (30 miles) from the conflict zone and has capacity to export as much as 1.2 million barrels daily from Baku to Turkey's Ceyhan.
The pipelines haven't been targeted in previous conflicts but may be vulnerable to any shift in the fighting between Armenian and Azerbaijani forces.