Austria's Economy May Not Fully Heal From Virus Until 2023
Austria's Economy May Not Fully Heal From Virus Until 2023
Austria's economy may take as long as 3 years to recover from the coronavirus even after the Alpine country emerged from the pandemic as one of the first to try restarting business.
That's the conclusion of a group of Austrian economic researchers who published their findings on Tuesday through the International Institute for Applied Systems Analysis outside of Vienna. Unemployment and state-wage support has already skyrocketed, with almost every third worker receiving some form of subsidy due to the pandemic.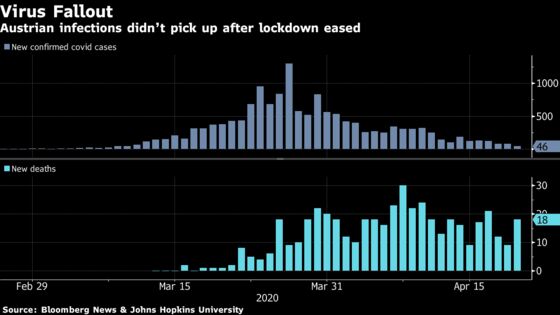 "It affects the entire economy, particularly by rippling through domestic and global supply chains, as well as by a reduction in final demand due to declining incomes and higher unemployment rates," wrote the researchers. "Small open economies like Austria that have highly developed manufacturing and service sectors with a complex network of international and domestic economic relations, can therefore expect a noticeable multiplier effect."
The researchers' models show Austrian 2020 unemployment rise to 10.5% if restrictions remain in place until mid-May. Delaying a return to full economic activity until June would result in a 12% jobless rate at the end of the year. Output in key sectors will contract some 10% if the country can kick-start activity after a nine-week lockdown, though sectors linked to tourism and hospitality, retail, or construction face much deeper contractions.
Overall, the researcher see 2020 gross domestic product slump by 4% to 6%, and expect output to still lag the pre-coronavirus trend by 2022.