Dozens of Australian Open Tennis Players in Quarantine
Tennis professionals forced into a 14-day hotel quarantine on their arrival into Melbourne ahead of next month's Australian Open tournament have been told by lawmakers they won't receive special treatment as the nation strives to keep the pandemic under control.
More than 1,200 officials, players and support teams arriving in Australia for the two-week tournament starting Feb. 8 had already been anticipating strict rules -- including daily testing for Covid-19, and only being allowed out of their designated hotel rooms for five hours a day for training and treatment.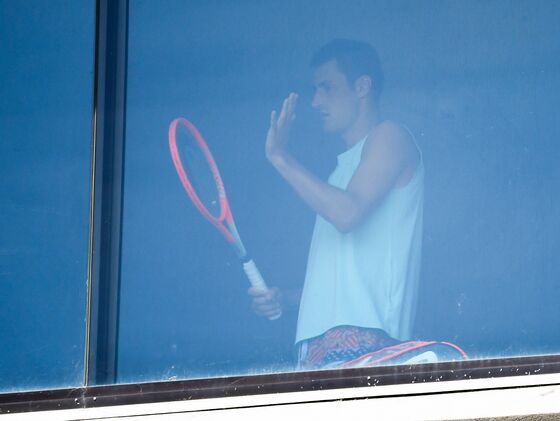 Now, 72 players have been ordered to stay isolated in their rooms for the full two weeks after arriving on flights that contained passengers who subsequently tested positive for coronavirus.
Some of those athletes, including Swiss player Belinda Bencic and Romania's Sorana Cirstea, posted messages to Twitter arguing they'll be disadvantaged by a lack of training. Uruguayan player Pablo Cuevas and Kazakhstan's Yulia Putintseva uploaded videos to social media accounts showing them hitting balls against upended mattresses inside their respective rooms.
While the world's No. 1 male star, Novak Djokovic, isn't among the players ordered into hard quarantine in Melbourne, News Corp. reported that he has issued tournament organizers with a list of demands including reducing the length of the isolation period and moving as many players as possible into private houses with a tennis court. Djokovic is currently quarantining under more lenient rules in Adelaide, the paper said.
"I know that there's been a bit of chatter from a number of players about the rules," Victoria state Premier Daniel Andrews told reporters in Melbourne on Monday. "Well, the rules apply to them as they apply to everybody else, and they were all briefed on that before they came. And that was the condition on which they came. There's no special treatment here."
Andrews last year presided over one of the world's strictest and longest lockdowns in Melbourne, which confined the city's 5 million residents to their homes for more than three months.
Australia's Acting Foreign Affairs Minister Simon Birmingham on Monday said the tournament, one of the world's four tennis Grand Slam events, could continue as long as players and their support staff abide by quarantine rules.
"There's an understandable desire to protect the opportunity to run the event and to hold it," Birmingham said in an Australian Broadcasting Corp. interview. "But the players have a responsibility, and to make sure that having come here as guests of Australia to play in this event or with their officials, that they obey every single rule."
Australia has come close to eliminating community transmission of the virus through the hotel quarantine system for all international arrivals, vigilant contact tracing methods, and encouraging high testing rates.
Still, the decision to allow Australian Open participants to enter the country has been contentious because of government restrictions that have capped arrivals of other international travelers, including citizens seeking to return home. Australia, which has recorded fewer than 29,000 cases of Covid-19 and 909 deaths, tightened rules earlier this month in response to the more transmissible U.K. Covid-19 variant.
The 72 players now in hard quarantine had arrived in recent days on three chartered flights from Los Angeles, Doha and Abu Dhabi that contained infected passengers, including tennis coach Sylvain Bruneau.
"We are in this situation, we have to deal with it, the Australian Open is going ahead," Tournament Director Craig Tiley told Channel 9 on Sunday. Players will be provided with fitness equipment for their hotel rooms. "It's a tough situation and we have got to do whatever we can to make it as fair as possible for those players that are in lockdown," he said.
Isolated players or officials aren't permitted to leave hotel rooms but some people in quarantine had caused issues by opening doors to hold conversations, Covid-19 Quarantine Victoria commissioner Emma Cassar told reporters Sunday in Melbourne. "There are a few people who are testing our procedures and we would encourage them to remain in their rooms," she said.
The Australian Open is set to proceed even as Formula 1, which was scheduled to hold the first race of its new season in Melbourne in March, delayed the event until November. A 2020 race was canceled when a member of the McLaren Racing team tested positive for coronavirus.
"Victorians have done it tough, and they don't expect special rules for anyone else,' state Chief Health Officer Brett Sutton said.