Australia Jobs Soar as Lockdown Easings Unleash Wave of Hiring
(Bloomberg) -- Australian employment soared last month, smashing expectations and pushing the jobless rate lower as the easing of virus restrictions along the populous east coast unleashed a wave of hiring.
The nation added 366,100 roles in November, compared with economists' estimate for a 200,000 increase, data from the Australian Bureau of Statistics showed Thursday. The unemployment rate declined to 4.6% after having risen in the previous two months and was better than the median forecast of 5%. The participation rate rose to 66.1% from a revised 64.6% in October. 
The data will be welcomed by policy makers, with the Reserve Bank aiming to tighten the labor market sufficiently -- meaning unemployment around 4% -- to spur faster inflation. The RBA is running ultra-low interest rates at present and Governor Philip Lowe says he won't hike until actual inflation, not forecast, is sustainably within the central bank's 2-3% target.
"The labor market slack is eroding faster, which will see upside to the RBA's wages forecasts and give them greater confidence in faster progress to their dual objectives," said Royal Bank of Canada's Su-Lin Ong. "The odds of QE ending in February has risen markedly in our view."
The Australian dollar swung from a 0.2% loss to a small gain and traded at 71.77 U.S. cents at 11:57 a.m. in Sydney. The nation's benchmark three-year bond yield spiked 11 basis to 1.02% as traders grew more confident the central bank will have to raise borrowing costs faster than it has indicated.
The RBA forecasts underlying inflation will only reach the mid-point of the band in late 2023. Money markets are more optimistic on the economy's prospects and are pricing in three rate increases next year. Swaps traders now see the RBA raising its key rate to 1% within a year, from 0.1% now.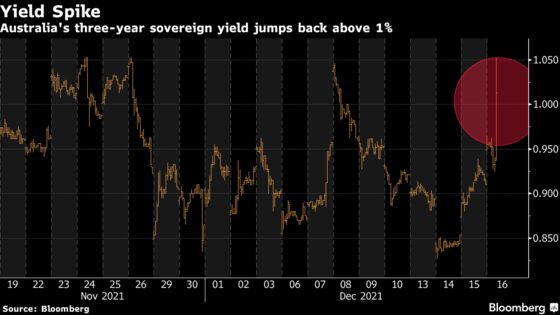 The result will also be a shot in the arm for a conservative government that's trailing in opinion polls ahead of an election due by May. It's aiming to further buttress its economic credentials after steering the country through a once-in-a-century pandemic, with Treasurer Josh Frydenberg releasing updated budget forecasts later today that are expected to show an improving fiscal position.
Part-time roles increased by 237,800 while full-time positions jumped by 128,300
Underemployment rate fell two percentage points to 7.5%
Underutilization decreased 2.6 percentage points to 12.1%
The employment to population ratio climbed to 63%
Hours worked added 4.5%
The data also add further weight to expectations the A$2.1 trillion ($1.5 trillion) economy is set to recover powerfully, with a separate Bloomberg survey showing economists have upgraded their GDP forecasts. 
High rates of vaccination against Covid-19 allowed authorities to ease mobility restrictions in New South Wales and Victoria states, which between them account for more than half of national output. 
The new omicron variant of coronavirus could cloud that positive outlook, though, with the latest readings of consumer and business sentiment signaling households and firms turning more cautious.