Australia Faces Uphill Battle on Wages as Labor Costs Still Weak
(Bloomberg) -- Australia's central bank Governor Philip Lowe reckons wages need to grow at 3% or more to drive inflation to a level needed for interest-rate liftoff. Latest labor data readings suggest this remains a distant prospect.
Gross domestic product data Wednesday showed unit labor costs and total employee compensation only moved slightly higher in the three months through September. The caveat being that many firms were shuttered and state borders sealed in the period to contain an outbreak of the delta variant of coronavirus. 
The GDP report did show the price deflator, a measure of inflation in the economy, jumped more than 7% in the third quarter from a year earlier, but this was largely due to a surge in commodity prices. 
"There weren't any signs of wage pressures," said Diana Mousina, a senior economist at AMP Capital Investors Ltd., who cautioned that lockdown disruptions also increased the degree of difficulty in interpreting data. 
Inertia in Australia's labor market is a key reason why the Reserve Bank expects the cash rate to remain at a record-low 0.1% until around 2024. While the recent lifting of virus restrictions has seen mobility data surge and job vacancies soar, there are few signs of that spreading to wages and prices.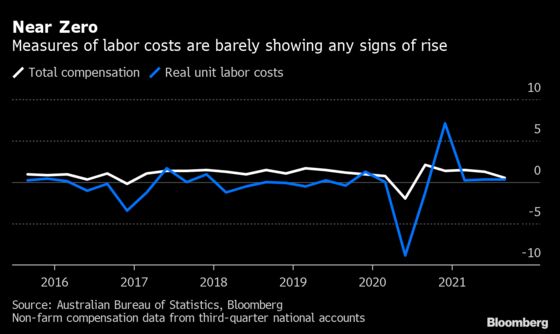 While many observers turn to the wage price index for a reading on pay gains -- the report showed a 2.2% increase last quarter -- it's a slow moving gauge that has some limitations. 
These include a failure to capture workers shifting jobs for higher pay or a tick-up in productivity from people taking on larger roles. It also doesn't factor in a rise in income from overtime or increases in hours worked. 
That makes other timely indicators more relevant and is a reason why pinning Lowe down on his 3% or more wage expectation could prove complicated. The governor aims to return inflation sustainably to the midpoint of the RBA's 2-3% target before raising rates.
The bank itself is leaning heavily on its liaison program for a reading on wage movements and whether firms are prepared to offer higher pay in response to labor shortages. There is anecdotal evidence of that happening in pockets of the economy, though it isn't expected to become broad-based. 
Central bank officials are also speaking with executives more frequently to obtain a better gauge of the economy's performance.
One source that has gained renewed interest during the pandemic is the Characteristics of Employment series released annually by the Australian Bureau of Statistics. The latest update is due on Dec. 14.
Meanwhile, National Australia Bank's monthly survey of business confidence and conditions is another important indicator for signs of wage pressures, with its sub-index for both labor costs and input costs ticking higher. 
AMP's Mousina, who reckons the RBA will start raising rates at the end of 2022, expects households cashed up from stimulus payments will drive up demand and boost price pressures in the period ahead.
"If we start seeing a pick-up in wage indicators the RBA will probably have to change its mind on rates," she said.