TNT, TBS to Share NHL Rights With ESPN in Seven-Year Deal
(Bloomberg) -- The TNT and TBS networks, owned by AT&T Inc.'s WarnerMedia, will air NHL regular games and the Stanley Cup playoffs as part of a seven-year deal with the league.
The company joins Walt Disney Co., owner of ESPN, in broadcasting NHL games, the league said Tuesday. The deal with Disney was announced last month.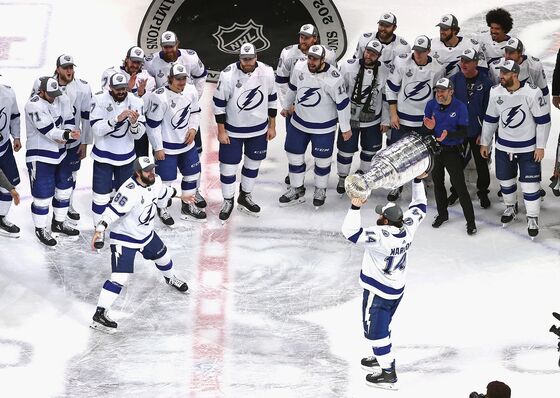 AT&T secured the agreement after Comcast Corp.'s NBCUniversal dropped out of the bidding, which rose about 200% above previous rates. The league will get roughly $630 million a year under the new terms, according to Bloomberg Intelligence, and more of the games will appear on online outlets, such as ESPN+ and Hulu. NBC had been the NHL's media partner for 16 years.
Jeff Zucker, the head of WarnerMedia's news and sports businesses, said on a conference call with reporters Tuesday that talks with the league had been going on for months but accelerated in the past two weeks.
The deal gives the media giant the flexibility to air games on its new HBO Max streaming service, but Zucker said the focus, at least initially, will be on the company's two traditional cable networks, TNT and TBS. The agreement also gives WarnerMedia content for some of its other businesses, such as its Bleacher Report website.
"We want to be where the consumer is and where the consumer is skating to," he said.
WarnerMedia will get the rights to the Stanley Cup finals in 2023, 2025 and 2027, with the championship appearing on Disney's outlets in 2022, 2024, 2026 and 2028.