ASML Stays Positive Despite Being Caught by U.S., China Rift
(Bloomberg) -- ASML Holding NV, a crucial supplier to Samsung Electronics Co. and Taiwan Semiconductor Manufacturing Co, is sticking to an optimistic outlook despite the pandemic and increasing tensions between China and the U.S.
The Dutch company, which produces extreme ultraviolet lithography equipment -- the machines used to make semiconductors -- met analyst expectations for the fourth quarter and will resume executing buybacks from this week. It expects a low double-digit growth for 2021, it said in a statement on Wednesday.
"I cannot imagine a company that already says something about 2021; that is really very unique," said analyst Jos Versteeg at InsingerGilissen by phone, adding that restarting the share buybacks, "also shows how confident they are of their case."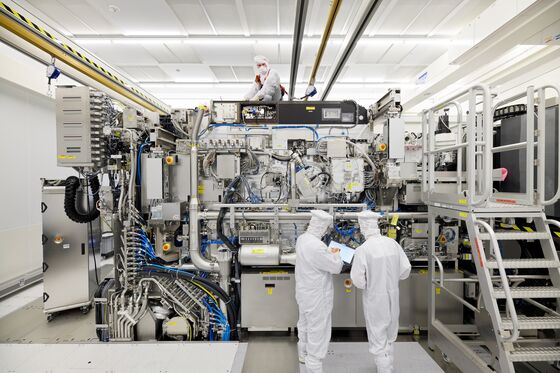 The company, the only EUV makers at the start of the semiconductor supply chain, has found itself caught between the U.S. and China. In January, U.S. ambassador to the Netherlands Pete Hoekstra told Dutch newspaper Het Financieele Dagblad that ASML's technology "doesn't belong in certain places," and the Dutch government last year held back on renewing an export license to ASML for one of its machines intended for China.
The license to ship the equipment still hasn't been granted.
"We are aware of the U.S. authorities' regulations and also interpretation of regulations obviously, so we are aware of that as it relates to specific Chinese customers," said Chief Financial Officer Roger Dassen in a video transcript, referring to recent U.S. restrictions on Semiconductor Manufacturing International Corp., China's largest chipmaker. Dassen added that the company can still export to Chinese customers from the Netherlands.
Why Does ASML Need a License?
ASML needs a license from the Dutch government to ship its latest EUV machines to China, as it's newest technology is labeled as dual-use for both military and civilian applications.The Dutch government, which has yet to issue ASML a license, has previously said security interests always ultimately prevail over economic interests.
The Dutch company mostly ships its older technology to China, which can resume being shipped to China without a license, but could fall victim of the U.S. export ban to ship semiconductor equipment, as ASML also produces equipment and parts in factories on that continent.
China relies on imported chip manufacturing equipment for its audacious ambition of creating a self-reliant semiconductor industry, which supplies key components for a wide spectrum of electronics from smartphones to satellites. ASML is an essential link in that plan.
"We have seen no major disruptions due to COVID-19 during the last quarter," Chief Executive Officer Peter Wennink said, confirming the existing growth outlook for 2020.
In the third quarter, ASML shipped 10 of its newest EUV machines, which etch smaller circuits while increasing capacity and speed.
Not everyone is confident about ASML's outlook. "ASML has received only 4 EUV bookings during the quarter, which makes the 45-50 target of next year challenging," said Bryan Garnier analyst Frederic Yoboue.
ASML expects fourth quarter revenue for 2020 to be 3.6 billion euros ($4.2 billion) to 3.8 billion euros, with a gross margin of about 50%. Analysts expected sales of 3.72 billion euros and a gross margin of 49.3%. ASML still sees annual revenue of 15-24 billion euros through 2025, and a 20% improvement in EUV revenue for 2021.
Shares fell 2.5% in early morning trading in Amsterdam.
"The longer-term drivers of our business are clearly still there," said Dassen, referring to the trends in markets including AI, high-performance computing, and 5G. "I think it's important to also recognize that all the uncertainty that we're talking about really is short-term uncertainty."
The Veldhoven-based company holds a de facto monopoly on equipment needed to make next-generation chips -- without which customers like Intel Corp., Samsung, and Taiwan Semiconductor Manufacturing Co. won't be able to continue to make their products faster, cheaper and more power efficient.
ASML halted its

up to

6 billion euros share buyback program earlier this year.