Argentina to Pay $430 Million to Paris Club, Avert Default
Argentina Plans Partial Payment to Paris Club, Averting Default
(Bloomberg) -- Argentina will make a $430 million payment to the group of wealthy government creditors known as the Paris Club, avoiding a default after missing a $2.4 billion maturity last month.
Argentina's Economy Minister Martin Guzman said that the country came to an understanding with the group and will have until March 31 to renegotiate the remainder of the debt. The country will pay part of the $430 million before the end of July and the rest sometime next year. Guzman didn't specify the amount of each payment.
"We have reached an understanding with the Paris Club to get a time bridge that will allow us not to default on July 31," Guzman said in a press conference on Tuesday, referencing the end of a grace period on its missed payment. "This time horizon gives us more security."
The club will spare Argentina from default with the expectation that the country can first rework a $45 billion credit with the International Monetary Fund, according to a person familiar with the matter, who asked not to be named because talks are private. The decision to make the partial payment was first reported by Bloomberg News.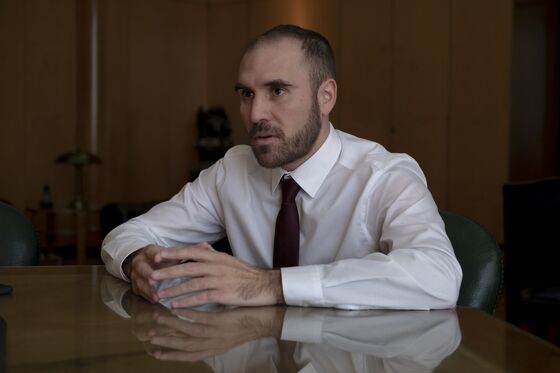 President Alberto Fernandez's administration is seeking to avoid a damaging default so it can refinance this debt after reworking a deal with the IMF, which is already taking longer than initially expected. Germany, Japan, U.K., U.S., Italy, Spain and Canada are among the 16 creditor countries owed as part of the Paris Club deal.
The government will continue in-person talks with IMF representatives at the meeting of the G-20 that will be held in Italy in July, Guzman added. Fernandez and Guzman toured European countries including Spain, Portugal and France over the past months to pave the way for this agreement.
The country entered the debt's 60-day grace period to reach an understanding with the informal group of creditors after requesting more time to work out an arrangement. The minister noted that the March 2022 deadline with the Club won't have any impact on the timeline for IMF negotiations.
Argentina's global bonds due in 2030 pared an intra-day decline to trade at 37.4 cents on the dollar, versus 37.15 before the news.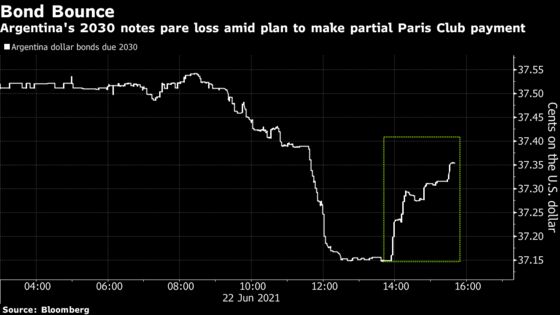 Argentina has requested nine credit lines to the Paris Club since 1956.
With no access to international debt markets, Argentina achieved this temporary time waiver after three years of recession. The country, which is the biggest exporter of soy products, is getting a boost from the rally in agricultural commodity prices. Still, it has to face several other large loans that are set to mature later this year -- including $753 million in interest payments and $3.8 billion in principal owed from the country's failed 2018 program with the IMF