Argentina Extends Lockdown After Its Death Rate Surpasses U.S.
Argentina Extends Lockdown After Its Death Rate Surpasses U.S.
(Bloomberg) -- Argentina extended quarantine measures for at least two more weeks as a wave of infections sends the nation's pandemic death rate past that of the United States.
The decree allows governors and the mayor of Buenos Aires to determine the extent of local lockdowns within certain parameters. The Health Ministry also announced Friday that it had signed contracts with Chinese vaccine producers Sinopharm and CanSino for millions of doses from each one.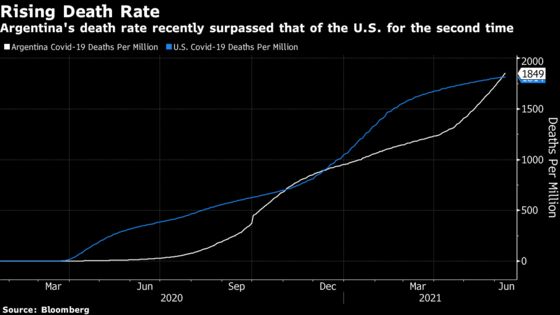 "We continue working to vaccinate, vaccinate and vaccinate, and we need to strengthen precautions to lower cases," Health Minister Carla Vizzotti said.
Although Argentina's vaccination campaign has picked up speed, another wave of cases has forced President Alberto Fernandez to implement various degrees of lockdowns since April. Argentines endured one of the world's harshest quarantines for several months last year, but Fernandez has resisted returning to that unpopular model with mid-term elections coming up in November.
In a country of about 45 million people, Argentina has lost more than 84,000 citizens to the virus. It recently surpassed the U.S. in deaths per million people since the beginning of the pandemic, according to data compiled by Bloomberg. Almost 80% of the beds in Argentine intensive care units are occupied, government data show.