Coffee Traders Reel With the World's Biggest Crop Under Threat
Arabica Coffee Declines on Easing Concerns of Brazil Frost
(Bloomberg) -- Price swings for arabica coffee are the biggest in nearly two decades with traders nervously tracking the approach of a cold wave that's threatening global supplies.
Futures for the high-end beans have surged 56% this year, making it one of the best performers among commodities.
"The market has to be on edge," said Nick Gentile, managing partner for NickJen Capital Management in New York. "You can't be short here."
Temperatures will begin to descend in the next 24 hours in southern Brazil, with the highest risk of frost coming between Thursday and Friday morning, according to Maxar Technologies Inc. Coffee and cane areas of Parana are especially vulnerable, with temperatures dropping to about 27 degrees Fahrenheit. The chill will last a few hours, said senior meteorologist Donald Keeney.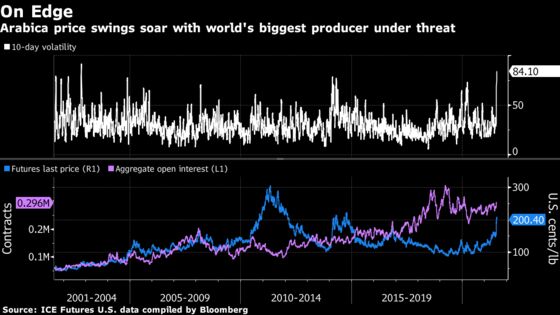 Top-growing coffee region South Minas Gerais may get readings of around 31 degrees Fahrenheit, enough to cause damage, Keeney said. Temperatures will warm from Saturday, with no chill threat next week.
Brazil's arabica crops alternate between a high-yielding crop and a low one each year. The most recent frosts are curbing the outlook for 2022, a high-yielding year, when the nation typically accounts for nearly half of global supplies. Minas Gerais grows nearly 70% of that.
While the outlook is dire, prices are swinging because another frost isn't set in stone, and traders are being influenced by other factors, like a recent margin call on the ICE Futures U.S. exchange. If the frost doesn't materialize, the market could go into a temporary free-fall, said Gentile. The higher margin requirements also probably led some traders to pare bullish positions in order to avoid paying up to maintain them.
Rabobank International analyst Guilherme Morya said the market may be overbought. The frost could touch areas that were already destroyed during the last two, lessening the blow.
Read: Coffee in Brazil Extends Record Surge as New Threat Looms: Chart
The surges are adding to concerns about food inflation at a time when global hunger is on the rise. Still, changes in wholesale prices often take time to reach consumers, with major companies mitigating the impact of price volatility by hedging their needs. Starbucks Corp. said in a call with analysts Tuesday that it currently has 14 months of supplies covered.
Arabica-coffee futures for September delivery slipped as much as 3.3% and rose as much as 1.8%. It settled down 0.6% at $2.0045 a pound. The 10-day historical volatility is at the highest since 2002.
The new frost could bring more panic buying, even to the point of breaching May 1997's historic high of $3.18, IHS Markit said in a report. However, any extreme moves would be short-lived.
The supply headwinds are coming amid a fast growing market that could grow to "well over $400 billion" globally in three years, which is a compound annual growth rate of about 9%, Starbucks said Tuesday.
In other commodities, raw sugar for October delivery climbed 1.5% to settle at the priciest since March 2017. U.S. sugar futures for the same type of sweetener also surged, reaching the highest since 2011.
Brazil was one of the beneficiaries of a recent import-quota reallocation in Washington involving sugar after other supplying nations were unable to deliver on their portions. The U.S.'s move came amid sliding domestic production prospects, global supply disruptions caused by Covid-19 and surging freight costs.