AMC's Bonds Soar From Virtually Worthless to Par in 7 Months
AMC's Bonds Soar From Virtually Worthless to Par in 7 Months
(Bloomberg) -- AMC Entertainment Holdings Inc.'s debt is also getting a blockbuster boost from retail stock trading mania.
AMC's 12% second-lien bonds rose above their face value of 100 cents on the dollar Thursday, a stunning comeback from their low of just 5 cents on the dollar last November. The company's debt rallied this week as credit investors cheered the latest rounds of equity financing, hoping the theater chain will use the new funds to help cut its borrowings.
Proceeds from the 11.6 million of new shares AMC sold Thursday -- worth $587 million -- are earmarked for general corporate purposes, a catch-all term that can include activities like paying down debt or funding acquisitions.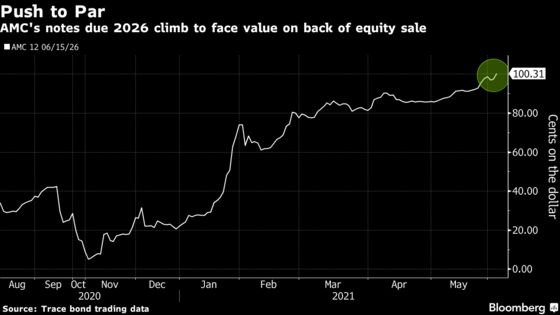 The cinema chain earlier this week issued equity worth $230 million in a private transaction with Mudrick Capital Management. The latest financing efforts, coupled with enthusiasm from day-traders on Reddit, have whipsawed the company's stock price.
"AMC is willing to take advantage of the hyper inflated share price to raise capital which is very positive for the credit," Matt Zloto, co-head of high-yield research at CreditSights, said in an interview. The company "changed their narrative on what proceeds would likely be focused on to debt reduction from liquidity and M&A," he said.
AMC's roughly $5 billion of debt, much of which carries risky CCC ratings, was trading at deeply distressed levels at the end of last year when the cinema chain was desperate for cash. Earlier share sales and January's meme-stock rally helped the company shore up its financial position just as it was reopening theaters in major markets like New York and vaccinations became more widespread.
Despite this week's enthusiasm, creditors are signaling some caution about the future of the chain: AMC's subordinated bonds due 2025 change hands at 81.5 cents, a level that typically signals some stress. Still, that's up from a trading price of as low as 5.5 cents last year.
Get Your
Daily Newsletter
Get market moving news, top news & compelling perspectives
---