Airlines Withdraw Planes From Service in Reversal of Recovery
Airlines Withdraw Planes From Service in Reversal of Recovery
(Bloomberg) -- The number of airliners in service has plunged since the start of the year amid fresh coronavirus restrictions, strangling off a partial recovery seen in the latter half of 2020, figures from travel-data specialist Cirium show.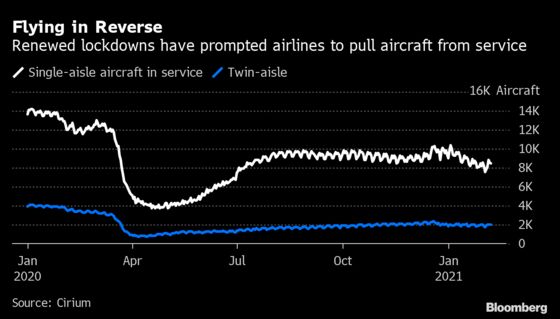 The slump is most pronounced for deployments of single-aisle aircraft, which fell below 8,800 on Feb. 5, a drop of almost 15% compared with Jan. 3, when the highest number saw action since last spring's initial lockdowns.
Wide-body usage slumped 14% from a Dec. 19 peak, though bigger aircraft remain comparatively far less popular, with just half the number in service compared with pre-pandemic levels as long-haul travel remains largely out of bounds.
New strains of Covid-19 have wiped out hopes for an early recovery in air travel, with the gradual roll-out of jabs expected to allow only a partial rebound this year. Cirium estimates that a return to 2019 demand levels could take until 2025, depending on the pace of vaccinations and the crisis's economic impact.