A Step Closer to Upgrade, Brazil CDS Falls to Lowest Since 2013
(Bloomberg) -- Brazil's credit default swaps headed for their lowest level in almost seven years as S&P Global Ratings put the nation a step closer to its first upgrade since 2011.
The nation's five-year credit default swaps traded at 103.3 basis points, the lowest since January 2013, when the country still had an investment-grade rating of BBB by S&P. On Wednesday, the firm was the first to improve the outlook for the nation's BB- rating to positive from stable, saying an upgrade can come in the next two years.
Read more: S&P Changes Brazil Outlook to Positive on Low Rates, Reform Push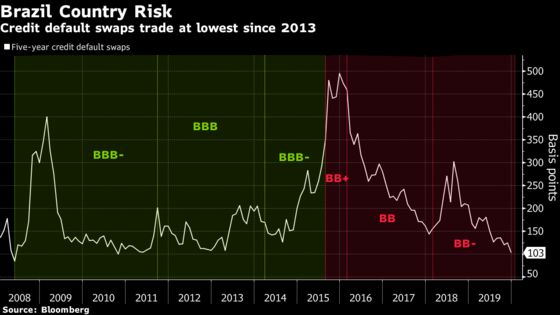 Investors have long priced in an upgrade for Brazil's sovereign rating due to the government's effort to improve the fiscal outlook through reforms, including the overhaul of an expensive social security system approved in October.
Gilmar Alves Lima, a Sao Paulo-based economist at Banco BMG SA, sees "big chances" the rating will be upgraded in the first quarter of 2020. He also expects other rating firms, as Fitch Ratings and Moody's, to improve the outlook of the credit assessment in coming weeks.
The primary analyst for Brazil at S&P Global Ratings, Livia Honsel, said the rating can be upgraded before the usual two-year deadline if growth accelerates to beyond the 2% forecast, the nominal deficit is trimmed and the reform agenda advances, among other factors.
The rating review can occur over the next 12 months, she said in an interview on Thursday, explaining the firm usually reassess the rating on an annual basis, unless economic, fiscal or political changes require an anticipated review.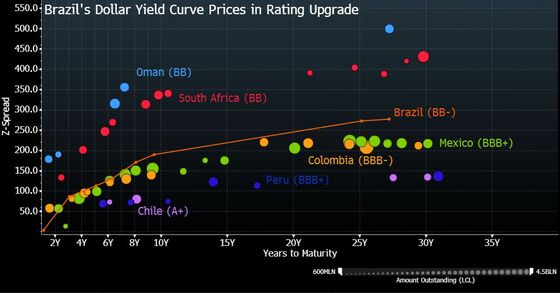 Brazil's sovereign dollar bonds already trade at a level that prices in a rating upgrade. The yield curve for the government's notes is currently lower than those of South Africa and Oman, which are rated a notch above the Latin American nation by S&P.
The upgrade "is merited," said Edwin Gutierrez, a money manager at Aberdeen Asset Management in London."Brazil already trades like a BB+ credit."
--With assistance from Josue Leonel.
To contact the reporter on this story: Aline Oyamada in Sao Paulo at aoyamada3@bloomberg.net
To contact the editors responsible for this story: Carolina Wilson at cwilson166@bloomberg.net, Alec D.B. McCabe