Ultra-Wealthy Asian Families' Love of Emerging Markets May Prove Painful
Ultra-Wealthy Asian Families' Love of Emerging Markets May Prove Painful
(Bloomberg) -- Asian family offices' love of emerging markets may prove painful in 2018.
Family offices in the region have the highest allocation globally to equities in developing markets, according to the 2018 Global Family Office Report published Tuesday by UBS Group AG and Campden Wealth. Developing-market fixed-income exposure, meanwhile, lagged only family offices located in places such as South Africa, Lebanon and Central America.
"Family offices are favoring higher risk, more illiquid investments in the pursuit of alpha," the report said. "And with developing-market equities grabbing an average return of 38 percent and developed-market equities 23 percent, this asset class deserves the spotlight."
Until recently, that is. While both developing-market equities and bonds performed well in 2017, this year they've struggled amid concerns ranging from tighter U.S. monetary policy to Argentina's fiscal woes and political upheaval in Turkey.
After soaring 34 percent in 2017 in its biggest yearly gain since the global financial crisis, the MSCI Emerging Markets Index is down 9 percent since January. Bloomberg's Barclays Emerging Markets USD Aggregate Total Return Index has slipped 2.8 percent after rising 8.2 percent last year.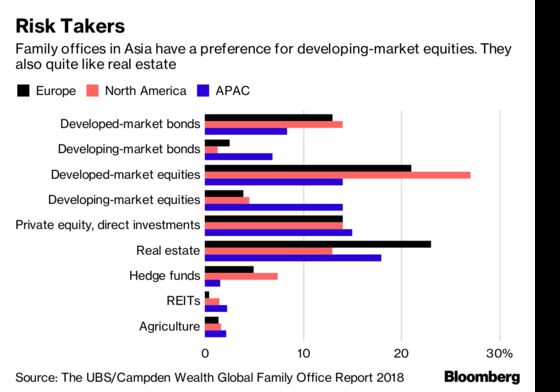 That could upset Asian family offices' returns, which averaged 16.4 percent in 2017. According to the report, Asia's richest clans have 14 percent of their portfolio allocated to developing-market equities versus 3.9 percent in Europe and 4.5 percent in North America. Their allocation to emerging-market bonds, at 6.9 percent, is also higher than most other regions.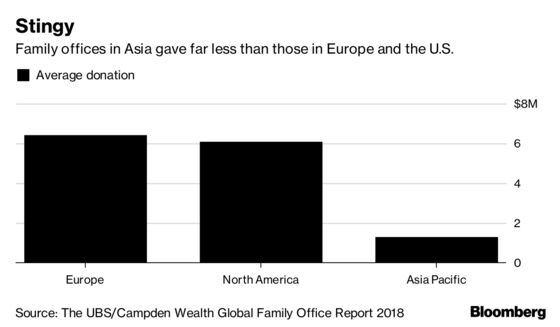 While risk-taking might be a strength of Asia's family offices, generosity isn't. The average European family office gave $6.4 million to philanthropic causes in 2017 compared with $1.3 million in Asia. One reason might be "because they chose to give via a route other than the family office," according to the report.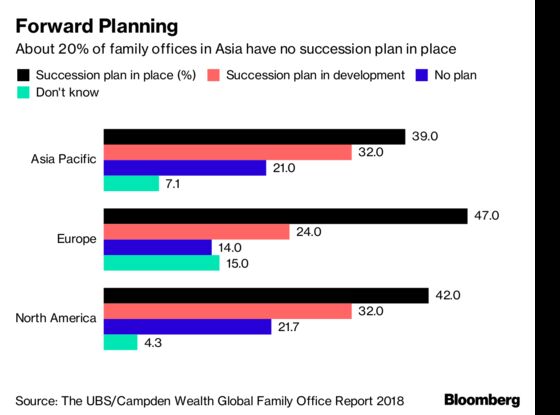 Succession planning is still a pressing issue in Asia, with just 39 percent of family offices in the region saying they have a plan in place. That compares to 47 percent in Europe and 42 percent in North America. About 20 percent of Asia's family offices have no plan at all.
Within Asia, Singapore has seen more growth in the number of family offices. The city-state is attractive because of its legal system and quality of life, the report said.
Some 311 family offices participated in the UBS/Campden Wealth Global Family Office Report, with 75 percent of them single-family offices.
To contact the reporter on this story: Klaus Wille in Singapore at kwille@bloomberg.net
To contact the editors responsible for this story: Katrina Nicholas at knicholas2@bloomberg.net, Peter Vercoe
Get Your
Daily Newsletter
Get market moving news, top news & compelling perspectives
---