Japan's Long Bonds Join Global Selloff as BOJ Tapers Buying
BOJ Cuts Purchases of Super-Long Bonds for First Time Since July
(Bloomberg) -- Japan is deepening a global bond selloff after a reduction in central bank purchases fueled the perception that it's persisting with stealth tapering. Twenty-year yields jumped to the highest level since April 2017.
The Bank of Japan trimmed its buying of bonds due in more than 25 years by 10 billion yen ($88.9 million), to 50 billion yen at its regular operation on Friday -- the first reduction in the segment since July. That was enough to send local yields climbing close to the highest levels since the central bank introduced its negative interest-rate policy in January 2016.
The BOJ in July said it will tolerate wider fluctuations in the benchmark yield and allow more flexibility in bond operations, even as it continues to push forward with its extraordinary monetary easing. The yen shrugged off Friday's tapering move, dropping to a two-month low versus the dollar as the Topix index rallied to the highest level since May.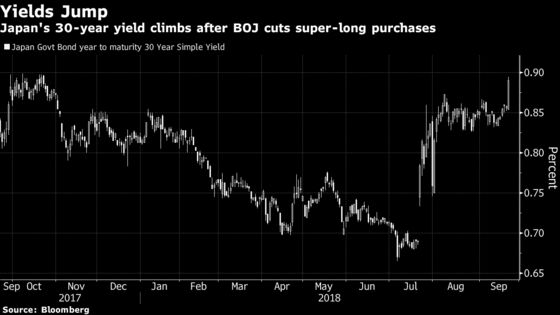 "The BOJ's action is in line with the policy of conducting market operations more flexibly and is aimed at improving market activity, not at raising yield levels," said Naomi Muguruma, a senior market economist at Mitsubishi UFJ Morgan Stanley Securities Co. in Tokyo. "The move also comes in light of a supply/demand balance as government bond issuance in the super-long zone is reduced this year."
The yield on benchmark 10-year bonds climbed 1.5 basis points to 0.13 percent, the highest level since Aug. 3. It was down 0.5 basis point before the BOJ operation. The 40-year yield jumped 5 basis points to 1.04 percent -- the highest since November. The 30-year yield rose four basis points to 0.89 percent, while that on 20-year debt increased 2.5 basis points to 0.645 percent.
Yields on U.S. Treasuries and German bunds have advanced in September as investors priced in another interest-rate increase by the Federal Reserve next week. The European Central Bank this month confirmed it will cut bond-buying in half next month and anticipates that new purchases will be halted by the end of the year.
The so-called super-long sector for Japanese bonds is favored by institutional investors. Pension funds are seen as major buyers of 40-year debt, life insurers are among the largest holders of 20- and 30-year zones. The 1 percent level for the super-long zones is seen as critical in prompting these long-term investors to shift some money back into the yen from higher-yielding overseas debt.
Friday's action may add to speculation that the BOJ is seeking to intentionally guide yields higher, said Eiji Dohke, chief bond strategist at SBI Securities Co. in Tokyo.
Even so, some investors do not see the advance in Japanese yields sustaining. That's because they see authorities carrying on with the ultra-loose monetary policy after Prime Minister Shinzo Abe's winning his third straight three-year term as head of the ruling Liberal Democratic Party on Thursday took him a step closer to becoming the country's longest-serving premier.
"The BOJ's move Friday confirmed market views that it will continue to gradually reduce buying in super-long maturities as it looks sustain its easy policy for a while with Abe government continuing," said Akio Kato, general manager of trading at Mitsubishi UFJ Kokusai Asset Management Co. in Tokyo. "The longer-yields have reacted but their moves are contained within the levels of steepening anticipated under the BOJ's latest tweaks."
The BOJ said July 31 that it will allow the 10-year yield to deviate by as much as 0.2 percentage points around zero percent. Governor Haruhiko Kuroda on Wednesday kept the BOJ's monetary policy unchanged and reaffirmed its commitment to reaching 2 percent inflation. The re-election of Abe -- who appointed Kuroda to head the BOJ in 2013 -- will ultimately serve as an endorsement of his mix of monetary easing, regulatory reform and fiscal flexibility.
Separately, the central bank has raised purchases of short-tenor notes this month to offset a cut in frequency of operations for those maturities.
"We shouldn't read too much into each operation as it is conducted within the policy mandate" of being more flexible, said Muguruma of Mitsubishi UFJ Morgan Stanley.
--With assistance from Christopher Anstey, Nicholas Reynolds and Kazumi Miura.
To contact the reporter on this story: Chikako Mogi in Tokyo at cmogi@bloomberg.net
To contact the editors responsible for this story: Mark Cudmore at mcudmore8@bloomberg.net, Shikhar Balwani
Get Your
Daily Newsletter
Get market moving news, top news & compelling perspectives
---