King Dollar, Robo Traders Are the Talk of the Currency Universe
King Dollar, Robo Traders Are the Talk of the Currency Universe
(Bloomberg) -- King Dollar is unlikely to lose its crown before the end of the year.
That's the consensus among participants at a currency conference. Among the reasons for its trend to continue: a hawkish Federal Reserve backed up by U.S. economic fundamentals, a European Central Bank on hold until late next year and Brexit.
Industry participants at Trade Tech FX in Barcelona last week were also preoccupied by whether the future of foreign-exchange will see artificial intelligence doing all the work, and the cost of compliance with increasingly stringent regulations such as MiFID II. Below is a compilation of comments from panels and interviews.
Dollar Reigns
With just one exception, every person interviewed by Bloomberg News saw the dollar holding firm or strengthening further into year-end, as the greenback benefits from U.S. rate differentials. The currency has been on a tear this year, gaining versus most of its Group-of-10 peers.
"I see the dollar going stronger," said Thomas Wind, head of foreign exchange and trading at Woodman Asset Management AG. "I can't see really what should change that besides inflation, weaker numbers out of China and if Europe and the ECB goes a bit more aggressive on the rates side."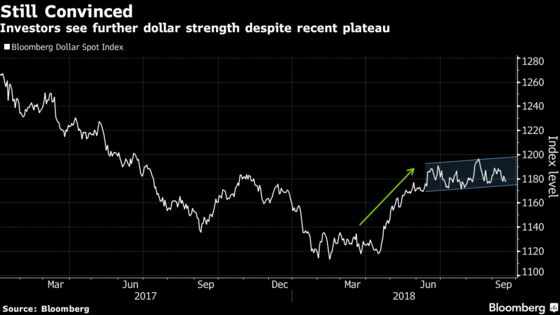 With Wind's view echoed by both buy and sell-side market participants, only Deutsche Bank AG's co-head of currency research George Saravelos was willing to stick his neck out with a contrarian view.
"The dollar has had an exceptional six months, and so our view is that on a medium term basis the peak in the dollar essentially happened about one and a half years ago when President Trump got inaugurated and French President Macron was elected," he told a panel discussion.
Predictions of the death of voice trading with the advent of the updated MiFID regulations appear to be coming true. Andreas Anschperger, head of currency trading in Frankfurt for Allianz Global Investors, said not a single trade had been executed by voice on his desk over the last few months, with the once-common method now reserved for "emergency cases."
Aside from the decline of voices, the next hot topic of discussion was artificial intelligence and how it can be used to further expand automation efforts in the currency trading sphere.
"The algorithms are getting much more advanced and dynamic," said Andrew Maack, global head of foreign-exchange trading at Vanguard Group Inc. "They're changing their behavior based on what they're seeing real time, they're adjusting for real time liquidity in the markets."
Still, market participants continue to see a role for the traditional trader. Even Dataminr, an artificial intelligence platform that makes use of sources such as Twitter to send breaking news alerts to traders, sees humans as a vital part of the process.
"As significant events occur, the machines don't have a logic to adjust to those events and so the human element is still there," said Edward Oliver, vice president of finance sales at the firm.
MiFID II continues to preoccupy both buy and sell-side firms. Woodman's Wind said his firm, while not under the coverage of MiFID, has lost out on at least one research provider as a result.
The cost of complying with the legislation's increased requirements to report on trades can also impact on firms' profitability, participants said.
"In particular for smaller companies, they have to have these departments, they have to have the backup, and for them in particular it's been difficult," said Allianz's Anschperger. "Certain consolidation to larger companies has taken place already."
The likely path of Britain's exit from the European Union continues to divide investors. Predictions at the gathering ranged from no Brexit at all to a so-called hard Brexit, where Britain leaves the bloc without a deal. Some thought the tide had turned over the preceding few weeks, with signs that both sides may be more open to compromise.
"If you look at the headlines over the past two weeks there's been a lot of positivity on maybe a better deal, a new Brexit vote, I think that could happen," said Wind, who went short sterling before the Brexit referendum but has been adding to long positions since two weeks after the result. "If you look a bit ahead, five years down the road, I'm quite sure sterling will trade stronger."
Not everyone was so confident. Stone Milliner Asset Management AG portfolio manager Patrick Hoffmann said he would want to sell the pound at these levels, while Allianz's Anschperger said he "wouldn't exclude a hard Brexit." The uncertainty is leading to a tendency to neutral positioning among clients, Anschperger added.
To contact the reporter on this story: Charlotte Ryan in London at cryan147@bloomberg.net
To contact the editors responsible for this story: Ven Ram at vram1@bloomberg.net, Neil Chatterjee
Get Your
Daily Newsletter
Get market moving news, top news & compelling perspectives
---