Boris Johnson Mounts Attack on May Over Brexit Talks
(Bloomberg) -- Boris Johnson opened a fresh attack on Prime Minister Theresa May, calling her approach to taking the U.K. out of the European Union "a humiliation" for the nation.
The former foreign secretary wrote an article for the Mail on Sunday newspaper to savage her policy of keeping Britain closely tied to EU trade rules after Brexit.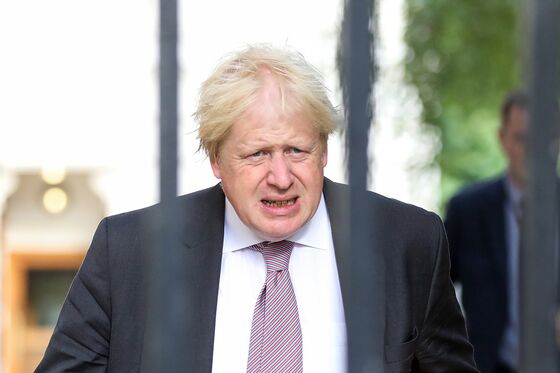 "Under the Chequers proposal we are set to agree to accept their rules -- forever -- with no say on the making of those rules," he wrote. "It is a humiliation. We look like a seven-stone (98-pound) weakling being comically bent out of shape by a 500lb gorilla."
Johnson quit the Cabinet in July over the proposal and his latest attack will fuel speculation about his own leadership ambitions. The face of the Brexit campaign announced last week that he and his wife of 25 years are divorcing. The decision to go public with the split was seen in some quarters as an attempt to clear the decks in preparation for a leadership bid.
In a reference to the vexed negotiations over how to avoid a hard border on the island or Ireland, Johnson said the government had "wrapped a suicide vest around the British constitution -- and handed the detonator to Michel Barnier," the chief EU negotiator. His choice of language prompted an immediate backlash from within his own Conservative Party.
"I think that there are much better ways to articulate your differences," Home Secretary Sajid Javid said Sunday in an interview on BBC Television's "Andrew Marr Show."
Foreign Office Minister Alan Duncan took to Twitter to describe the comments as "one of the most disgusting moments in modern British politics" and predicted the "political end" of Johnson.
Tom Tugendhat, the chair of Parliament's Foreign Affairs Committee and a former soldier in Afghanistan, wrote on Twitter:
"A suicide bomber murdered many in the courtyard of my office in Helmand. The carnage was disgusting, limbs and flesh hanging from trees and bushes. Brave men who stopped him killing me and others died In horrific pain. Some need to grow up. Comparing the PM to that isn't funny."
Johnson is popular among grassroots Tories and the bookmakers' favorite to succeed May. Brexiteers will step up their campaign to kill off the Chequers plan this week, with Tory lawmaker Jacob Rees-Mogg set to back new claims that falling back on World Trade Organisation rules would boost trade, lower domestic prices and increase inward investment.
But allies of the prime minister rallied behind her on Sunday.
Javid said the Chequers plan is the only deal "on the table" and insisted May is "doing a great job." Foreign Secretary Jeremy Hunt, writing in the Mail, pleaded for unity as Brexit talks enter the final phase. The U.K. is set to leave the bloc on March 29.
"We should not rush to judgment on a deal that is still under negotiation," Hunt wrote. "Nor should we assume that unacceptable further concessions will 'inevitably' be made on the Chequers proposals. I know this prime minister and she would never recommend a deal inconsistent with what the country voted for."
To contact the reporter on this story: Andrew Atkinson in London at a.atkinson@bloomberg.net
To contact the editors responsible for this story: Fergal O'Brien at fobrien@bloomberg.net, Steve Geimann, V. Ramakrishnan