Nigeria's Senate Head Saraki Says He'll Run for Presidency
Nigeria's Senate Head Saraki Says He'll Run for Presidency
(Bloomberg) -- Nigerian Senate President Bukola Saraki said he'll challenge President Muhammadu Buhari as leader of Africa's most populous country in 2019 elections.
"I hereby announce my intention to run for the office of president," Saraki told reporters Thursday in the capital, Abuja. "I do so with the firm conviction that I have what it takes to secure inclusive growth for Nigeria and Nigerians."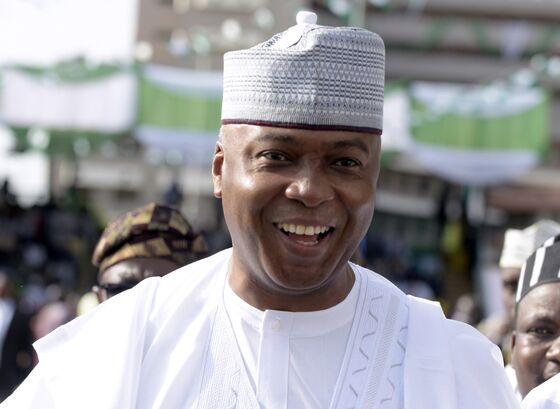 Saraki, 56, said he'll run on the platform of the main opposition People's Democratic Party, which he joined last month after defecting from the ruling All Progressives Congress. He would need to win the party's ticket during primary elections in October.
The Senate president is the latest addition to the list of about a dozen contestants seeking the nomination of the PDP. They include former Vice President Atiku Abubakar and three former state governors, including Rabiu Kwankwaso, who formally declared his intention to run a day earlier.
"The PDP field has become even more crowded," said Cheta Nwanze, analyst at Lagos-based SBM Intelligence business advisory. "The biggest land mine ahead for their party will be its ability to reconcile aggrieved losers when the party convention holds in October."
Saraki has tangled politically with Buhari ever since he emerged as the head of the Senate against the president's wishes in 2015, often going against the party line. He was part of a group of PDP members who teamed up with Buhari and other opposition parties to form the coalition that won power in 2015.
His return to the PDP came amid a wave of such departures from the APC, including dozens of senators and at least two state governors. After security operatives surrounded Saraki's home last month for undisclosed reasons, the secret police temporarily blocked access to the National Assembly on Aug. 7, in what Saraki said was an illegal attempt to impeach him. The head of the State Security Services was dismissed over the deployment.
Nigeria under 75-year-old Buhari has failed on all the important measures of development creating a need for an emergency rescue, Saraki said.
"The choice we face in the forthcoming election is either to keep things as they are, or make a radical departure from the old ways," Saraki said. "We need a new generation of leaders that are competent, with the capability to rise to the challenges of the 21st century."
To contact the reporter on this story: Elisha Bala-Gbogbo in Abuja at ebalagbogbo@bloomberg.net
To contact the editors responsible for this story: Karl Maier at kmaier2@bloomberg.net, Dulue Mbachu, Michael Gunn