Argentina Asks IMF to Quicken Payments From $50 Billion Line
Argentina Asks IMF to Speed Up Payments From $50 Billion Line
(Bloomberg) -- Argentina's peso tumbled to a record low after President Mauricio Macri asked the International Monetary Fund to speed up disbursements from its $50 billion credit line to ease the nation's financial crisis.
The request reflects the pressure policy makers are under to reassure investors that the government will have enough money to fund itself through next year without incurring more debt. Borrowing costs soared in recent months as the country heads for its second recession in three years with inflation above 30 percent and the world's highest interest rates.
Macri is in a jam almost three years after taking over from a socialist government with a pledge to normalize the economy and restore growth, facing down massive fiscal and current-account deficits that have spooked investors. While officials had wagered that obtaining the IMF credit line in June would calm nerves and buy the government some time, the selloff in Argentina's currency has continued -- it's now down 45 percent this year -- putting pressure on inflation and threatening to throttle growth.
Critics said Macri's announcement showed he was more focused on securing funding than plans to cut government spending, which some believe should be Macri's top priority.
"The announcement was very weak," said Guillermo Nielsen, a former finance secretary from 2002 to 2005. "There is an absolute lack of confidence in the peso."
IMF officials didn't respond to requests for comment on Macri's statement, nor did they issue their own communique.
Argentina received the first $15 billion disbursement from the IMF in June and the government was expecting to get an additional $3 billion in September. Macri didn't say how much he had requested from the fund. IMF economists and technicians are in Argentina this week in meetings with government members to review portions of the agreement.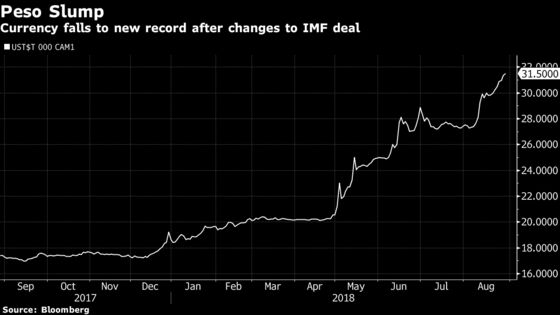 "We have agreed that the IMF will forward all the funds necessary to guarantee compliance with next year's financial program," Macri said in a televised address. "This decision aims to eliminate any uncertainty that was created before the worsening of the international outlook."
Investors may be concerned the move reeks of desperation. After Macri's announcement, the peso plunged 7.3 percent Wednesday to an unprecedented 33.8 per dollar. It has lost value for eight straight trading sessions. The peso's 45 percent plummet this year (and 19 percent loss just this month) is the worst performance in emerging markets, which have broadly suffered in recent months as investors sought out safer assets amid the crisis in Turkey.
Argentine dollar bonds also fell, with the 10-year note down 1.6 cent to 74.5 cents on the dollar, pushing its yield up 33 basis points to a near-record 10.15 percent.
Confidence in the government fell in August, matching the lowest level since Macri took office, according to data released Wednesday by the University of Torcuato Di Tellato. The level slipped to 1.94 on a 0-5 scale, down from 3.14 during Macri's first full month in office in 2016.
Still, there was some optimism among analysts. Goldman Sachs economist Alberto Ramos called the request for more IMF funds a "positive development." BTG Pactual Argentina's chief economist, Alejo Costa, said getting the funds faster would be a major accomplishment for Macri, considering the IMF isn't known to make these types of changes.
The currency crisis has put Argentina on track for a recession this year. Treasury Minister Nicolas Dujovne said Monday the economy will contract 1 percent in 2018, in a sharp reversal from a 3 percent growth forecast earlier the year.
As part of the IMF deal, Macri agreed to speed up spending cuts to reach a fiscal balance by 2020. The fiscal target this year is 2.7 percent of gross domestic product, and it's 1.3 percent for 2019. Some analysts have noted for months that it will be difficult for Macri to both cut spending more in 2019 and win next year's presidential election.
To contact the reporters on this story: Patrick Gillespie in Buenos Aires at pgillespie29@bloomberg.net;Ignacio Olivera Doll in Buenos Aires at ioliveradoll@bloomberg.net;Jorgelina do Rosario in Buenos Aires at jdorosario@bloomberg.net
To contact the editors responsible for this story: Vivianne Rodrigues at vrodrigues3@bloomberg.net, ;Daniel Cancel at dcancel@bloomberg.net, Brendan Walsh, Andres R. Martinez