Mnuchin Isn't Worried About the Yield Curve
Mnuchin Isn't Worried About the Yield Curve
(Bloomberg) -- Treasury Secretary Steven Mnuchin said he's "not at all concerned" about the convergence of short- and long-term market interest rates at a time when some investors are worried the flattening yield curve signals a U.S. recession is coming.
Having a flat curve is something the Treasury is "perfectly content with," given the government's issuance of long-term debt, he said in an interview Tuesday on CNBC. Mnuchin also said he doesn't view the curve as a predictor of economic growth.
Contrasting with President Donald Trump, who has criticized Federal Reserve Chairman Jerome Powell's increases in the central bank's policy rate, Mnuchin praised Powell as a "phenomenal" leader. The two meet weekly, and Powell is carefully monitoring U.S. growth and inflation, Mnuchin said.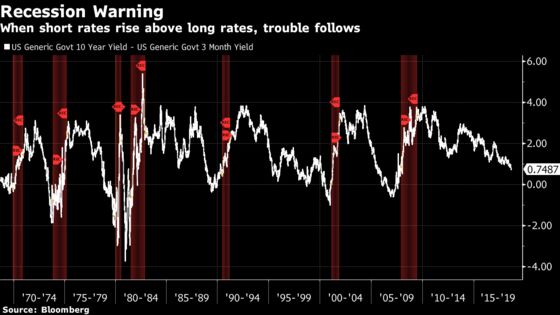 The gap between 2- and 10-year yields shrank to 18.3 basis points Monday -- the narrowest since 2007, a year that also marked the last time the curve was inverted. Many investors and some policy makers have fretted over the recession signals an inversion has historically sent. Yet Powell indicated last week that tightening plans remain unaffected for now.
Jim Bianco, president of Bianco Research LLC, says Mnuchin should be concerned about the flattening curve as a signal of a pending economic slowdown. And for Bianco, the flattening isn't really helping reduce borrowing costs. That's because the average maturity of the government's debt is just under six years.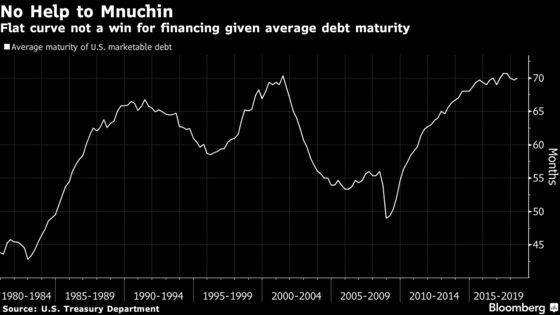 As Treasury has boosted debt sales to meet fiscal shortfalls, it's tilted issuance more heavily to maturities of five years or less, and said keeping the average maturity of its borrowings stable is ideal. So low long-term rates aren't necessarily a big help to Treasury.
"This twisting of the yield curve doesn't benefit Mnuchin," Bianco said. "That's because the Treasury is borrowing more from the front end. Mnuchin is wrong -- the yield curve matters and it matters a lot."
To contact the reporters on this story: Brendan Murray in Washington at brmurray@bloomberg.net;Liz Capo McCormick in New York at emccormick7@bloomberg.net
To contact the editors responsible for this story: Brendan Murray at brmurray@bloomberg.net, ;Benjamin Purvis at bpurvis@bloomberg.net, Mark Tannenbaum, Vivien Lou Chen