Think Turkey, Argentine Sovereign Debt Is Bad? Look at Companies
Think Turkey, Argentine Sovereign Debt Is Bad? Look at Companies
(Bloomberg) -- It isn't just sovereigns. Argentine and Turkish corporate bonds are also racing each other to the bottom.
Of the 10 worst-returning dollar-denominated, emerging market corporate bonds this month, six are Turkish and four are Argentine. The worst are Turkiye Is Bankasi bonds maturing in 2028, down almost 19 percent, while best of this select group is the Argentine utility Transportadora de Gas del Sur SA, with a loss of 7.3 percent. By comparison, Argentina's sovereign bonds have lost 7.5 percent and Turkish sovereigns are down 6.7 percent.
"Argentina and Turkey are trading like Siamese twins," said Guido Chamorro, senior investment manager at Pictet Asset Management Ltd in London. "For different reasons, but similar results."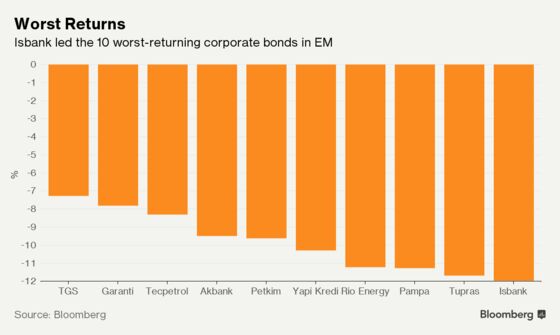 While both Turkey and Argentina suffer from high current-account deficits and accelerating inflation, it's Turkey's refusal to follow orthodox economic policy and raise interest rates that sent its currency and assets tumbling. In Argentina, where the central bank raised rates Monday, there's a fast-expanding corruption scandal that threatens to stall investments.
Turkish banks have been especially punished by investors as a slump in the lira hit risk-weighted assets on balance sheets. The weaker the lira, the harder local companies will find it to repay their dollar debts.
While Turkish assets might become attractive at some point, investing in Turkey right now "would be catching a falling knife," said Oksana Reinhardt, an executive director at SMBC Nikko Capital Markets in London.
In Argentina, the corruption probe that has ensnared some of the country's largest companies, has come on top of the fact that the economy is heading into recession. Economic activity plunged by the most since 2009 in May, while industrial production dropped the most since 2003 the month after.
All four Argentine companies in the 10 worst-performing list are caught up directly or indirectly in the probe, including Pampa Energia, which co-controls Transportadora de Gas. A Pampa spokesman said the bond price decline may be related to the company's second-quarter loss, while the other Argentine companies declined to comment.
Additionally, utility companies like Transportadora face a Turkey-style problem servicing dollar-denominated debt amid the collapse of the Argentine peso. The central bank hiked its key rate by five percentage points to 45 percent today to stem the decline.
The peso has fallen more than 35 percent this year, second only to the world's worst currency -- the Turkish lira.
To contact the reporters on this story: Justin Villamil in Mexico City at jvillamil18@bloomberg.net;Pablo Gonzalez in Buenos Aires at pgonzalez49@bloomberg.net
To contact the editors responsible for this story: Rita Nazareth at rnazareth@bloomberg.net, ;Nikolaj Gammeltoft at ngammeltoft@bloomberg.net, Philip Sanders, Alec D.B. McCabe
Get Your
Daily Newsletter
Get market moving news, top news & compelling perspectives
---