Argentina's Bonds Slump as Graft Probe Pushes Economy to the Brink
Argentina's Bonds Slump as Graft Probe Pushes Economy to the Brink
(Bloomberg) -- The corruption scandal that broke in Argentina last week could be a political godsend for President Mauricio Macri -- and an economic nightmare for the country.
A federal judge is probing hundreds of alleged bribes paid by construction companies, energy suppliers and electricity generators to members of the former government of Cristina Fernandez de Kirchner. While the accusations may derail Fernandez's hopes of a comeback, aiding Macri, they could also halt investment in a country already threatened with recession after a collapse in the peso.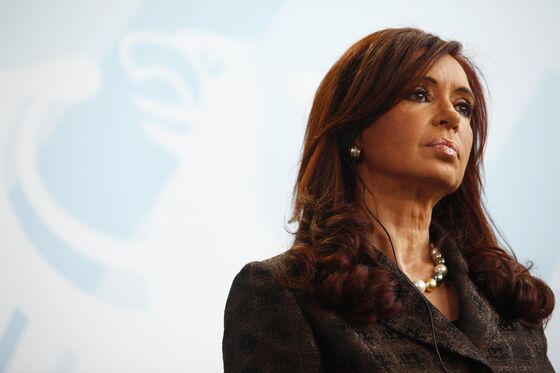 Police have arrested more than a dozen former government officials and business leaders since Aug. 1, the day that La Nacion published an investigation into a decade of alleged corruption under Kirchner and her late husband. Companies named in the probe include power generator Albanesi SA, the construction companies IECSA SA and Grupo Roggio, and Grupo Techint, which owns the oil exploration company Tecpetrol SA. As the scandal evolves, borrowing costs have soared and Albanesi has been forced to cancel a bond sale.
"It will be difficult to put the genie back in the bottle," said Guido Chamorro, senior investment manager of Pictet Asset Management Ltd in London. "It doesn't appear from an outsider perspective that this will end anytime soon."
The fear is that investors will shun the country until the investigation has been completed. The hope is that Macri and his market-friendly reforms will face less opposition ahead of next year's presidential election. But investors may be getting weary. The latest threat to investment comes on the heels of a currency collapse in May that forced Macri to turn to the International Monetary Fund for a $50 billion credit line. Inflation is running at 29.5 percent and the benchmark interest rate is at 40 percent.
For many investors, the scandal all sounds horribly similar to the so-called Car Wash case in Brazil, which helped bring down one president and contributed to almost three years of recession.
As pressure on the economy mounted, the yield on Argentina's century bonds rose to a record 9.48 percent Wednesday from 8.92 percent the day before the scandal broke. The bonds pared losses in early trading today, with the yield dropping to 9.42 percent.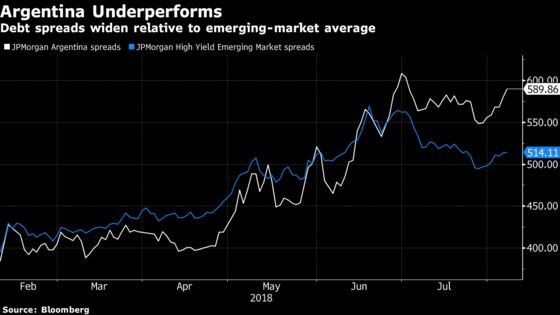 It's even worse for corporate bonds. Albanesi bonds due 2023 now yield 14.90 percent, up 4.37 percentage points since the case began, pushing the spread over U.S. Treasuries to more than 10 points, a level typically associated with distress. MSU Energy notes due in 2025 yield 13.08 percent, while Tecpetrol bonds due 2022 yield 8.34 percent. Clisa, controlled by Grupo Roggio, is the worst performer, with its 2023 bonds yielding 19.25 percent.
"We are still in the early days of the investigation which means it is difficult to predict the full scope of the scandal," said Jeffrey Lehtman, partner at Richards Kibbe & Orbe LLP. "But the economy's reaction thus far does not bode well."
Even before the latest scandal broke, Argentina's economy was in a bad way. Industrial production slumped 8.1 percent in June from the year earlier, the biggest decline in 16 years.
The country's dollar-denominated GDP Warrants issued in 2010 -- a security that pays investors if the economy grows a certain amount in a year -- have fallen to their lowest level ever as Argentina heads towards recession this year.
Now, as the police probe some of the country's largest companies and the Merval stock index tumbles 9.2 percent in just over a week, it is not clear where any revival in investment will come from.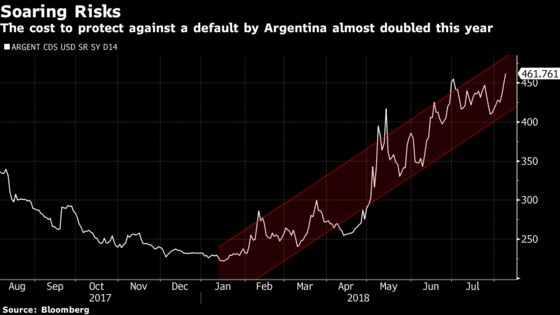 "The market is not telling us that there's a heightened risk of default, it's saying: 'I don't know.' And not knowing comes at a cost in Argentina," Roger Horn, senior emerging-markets desk analyst at SMBC Nikko Securities America Inc., said by phone.
The scandal broke after La Nacion obtained a series of notebooks belonging to Oscar Centeno, a driver for the former deputy secretary for planning. Centeno had meticulously kept records of names, amounts, addresses and dates of alleged bribes paid between 2005 and 2015. The paper said some bribes were delivered directly to Kirchner's apartment in Buenos Aires and the official presidential residence, Quinta de Olivos.
The judge has kept many of the details of his investigation under wraps. That may all change on Aug. 13 when Kirchner has been called in for questioning.
For now, it's too soon to evaluate the economic impact of the Pandora's box that Centeno has opened, the Treasury Ministry's press office said Wednesday, responding to a Bloomberg inquiry. The case may lead to some short-term uncertainty, Cabinet Chief Marcos Pena told reporters in Buenos Aires on Thursday.
The rise in borrowing costs isn't hurting just those named in the notebooks. The oil giant YPF SA said Wednesday that it would turn to banks to secure financing after the scandal caused the bond market to tighten. The company faces a $400 million maturity before year end.
"We see some investors who want to reduce their Argentina exposure, and others that ask, can we understand the underlying businesses and where the opportunities are?" Horn said. "Argentina has become Argentina again."
--With assistance from Jonathan Gilbert.
To contact the reporters on this story: Pablo Gonzalez in Buenos Aires at pgonzalez49@bloomberg.net;Carolina Millan in Buenos Aires at cmillanronch@bloomberg.net;Patrick Gillespie in Buenos Aires at pgillespie29@bloomberg.net
To contact the editors responsible for this story: Nikolaj Gammeltoft at ngammeltoft@bloomberg.net, Philip Sanders, Brendan Walsh