Bonuses Push Up Pay for Japanese Workers Yet Spending Falls
Pay for Japanese Workers Makes Biggest Monthly Jump Since 1997
(Bloomberg) -- Pay for Japanese workers took a big leap in June, boosted by large summer bonuses. Yet that didn't loosen people's purse strings, with household spending falling for a fifth straight month.
Highlights
Labor cash earnings rose 3.6 percent in June from a year ago (forecast +1.7 percent).
Real earnings, which are adjusted for inflation, increased 2.8 percent (forecast +0.9 percent).
Household spending fell 1.2 percent in June from a year earlier (forecast -1.4 percent).
Note: cash earnings include scheduled earnings, or base wages, and non-scheduled earnings, including bonuses and overtime pay
Driven by the tightest labor market in decades, wages in Japan have grown steadily since mid-2017, and even real wages are starting to pick up. That's welcome news for the Bank Japan, which recently adjusted monetary policy in an effort to make its easing program more sustainable. If households become convinced that pay hikes will keep coming, they'll be more willing to increase spending, which will drive further price increases and economic growth. The problem is that employers favor pouring pay hikes into bonuses, which can be taken away, rather than permanent increases in wages.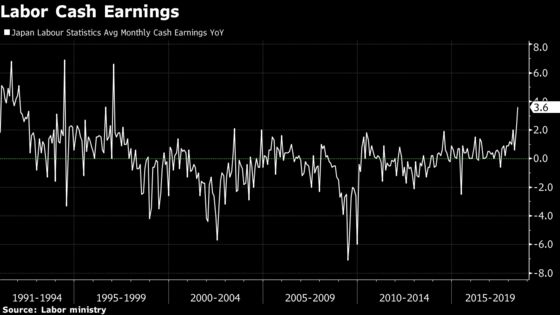 What Our Economist Says ...
The earnings data is clearly a good sign for reflation, Bloomberg Economics' Yuki Masujima wrote. "Maintaining that pace though, will be tough. The surge was driven by a big bump in bonus payments, reflecting high corporate profits, and a steep pickup in overtime time. These could be difficult to sustain, given increasing external risks for Japan Inc. -- protectionism in the U.S., and a broad slowdown in China. Even so, a tightening labor market means companies will continue to face pressure to boost pay to secure workers."
"What's had the biggest impact this month is the 7 percent rise in special cash earnings," said Toru Suehiro, senior market economist at Mizuho Securities Co. in Tokyo. "Simply put, corporate earnings are good so bonuses have had a boost. So we can expect some impact on consumption as a result of that."
But scheduled earnings rose only 1.3 percent, not fast enough to drive inflation to the Bank of Japan's 2 percent target, Suehiro said.
On household spending, what little wage growth Japan has seen has been mostly canceled out by a rising savings rate, he said.
--With assistance from Yuko Takeo.
To contact the reporter on this story: Connor Cislo in Tokyo at ccislo@bloomberg.net
To contact the editors responsible for this story: Brett Miller at bmiller30@bloomberg.net, Henry Hoenig