Turkish Yields Increase to Record Amid Threat of U.S. Sanctions
Lira Extends Longest Losing Streak Since May to Fresh Record Low
(Bloomberg) -- The yield on Turkey's benchmark government bonds rose to a record and the lira fell as a showdown with the U.S. over a detained American pastor continued to weigh on investor sentiment.
The rate on 10-year bonds hovered just below 20 percent, while the currency dropped more than 2 percent to an all-time low amid its longest losing streak in three months. The lack of liquidity in the lira market and broad dollar strength are compounding moves, according to an Istanbul-based trader who asked not to be named as the person is not authorized to speak publicly.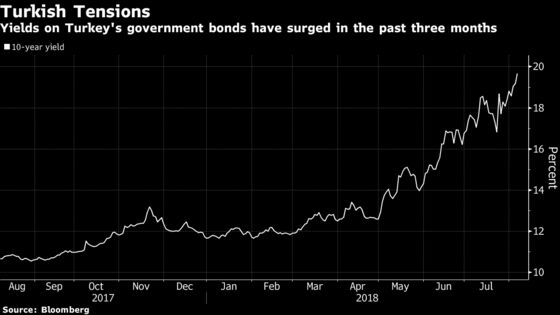 The U.S. sanctioned two Turkish government ministers last week over the detention of American pastor Andrew Brunson on terrorism and espionage charges, a move that sent markets tumbling and set into motion a diplomatic showdown that could eventually see Washington levy economic penalties. President Recep Tayyip Erdogan said on Saturday that Turkey will respond in kind to the U.S. decision, fueling concerns of an escalation.
"The rates and currency markets are essentially broken, dominated by irrationality, illiquidity, and the absence of two-way flows," Phoenix Kalen, a strategist at Societe Generale SA in London, said in emailed comments. "The Turkish narrative gets ever more negative as the diplomatic quarrel with the U.S. intensifies amid sanctions and retaliations, with thus far few signs of compromise or deescalation."
The yield on 10-year government bonds jumped as much as 64 basis points to 19.83 percent. The lira was 1.7 percent weaker at 5.1729 against the dollar as of 3:41 p.m. Istanbul time after earlier touching 5.1916 per greenback.
With the lira already under pressure from one of the largest current-account deficits in emerging markets, the ratcheting up of tensions has fueled the currency's loss this year to more than 26 percent against the dollar. That has hampered the ability of companies to repay their foreign-currency loans, stoked inflation and put pressure on the central bank to keep raising rates. The bank is scheduled to next meet on Sept. 13.
Still, there was some sign that the dispute with the U.S. may eventually be resolved. Erdogan said on Saturday that he believed the two NATO partners will "leave behind a major chunk of differences" soon, an indication that a breakthrough in one of the worst crises between the nations is possible.
"It's worth noting that Erdogan has been trying to use very careful language as much as he can," analysts at Global Securities in Istanbul, including the head of research, Sertan Kargin, wrote in a note to clients. "It seems there is still room for a diplomatic exit, although more time and effort are needed to bridge the gap between the two countries. Should this be the case, lira assets could recover strongly and swiftly."
To contact the reporter on this story: Constantine Courcoulas in Istanbul at ccourcoulas1@bloomberg.net
To contact the editors responsible for this story: Ven Ram at vram1@bloomberg.net, Scott Hamilton, Keith Jenkins