U.S. Farmland Values Hit A Record Despite Trade Fears
Land prices gain comes at a grim time as farm income may drop 6.7 percent, according to U.S. agriculture department data.
(Bloomberg) -- While crop groups have sounded the alarm over U.S. trade wars, here's one measure that shows part of the agricultural economy is still vibrant: U.S. farmland values just rose to a record.
Average farmland values nationwide have increased 1.9 percent to $3,140 an acre so far this year from 2017, according to a report released Thursday by the U.S. Department of Agriculture. The gain signals that investors are focusing on farmland as a longer-term investment, and may consider the trade tensions to be short term.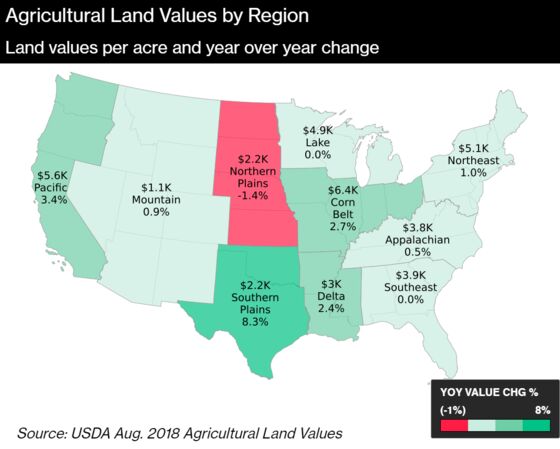 "There shouldn't be a decision made on current trade issues and lower commodity prices," said Randy Dickhut, senior vice president for real estate operations for Farmers National Company, which manages more than 2 million acres in 28 states including Texas, Minnesota, Kentucky and Washington.
While the U.S. disputes with China and other trading partners "enter into the mood, and maybe increase some caution in some buyers," investors are taking note that "good quality land has held and increased its value," he said.
The economic health of U.S. farmers is in the political spotlight as the key constituency for President Donald Trump bears a disproportionate share of damage in a trade war the White House has fueled through tariffs on goods from China and elsewhere. Soybeans alone may lose $3.2 billion in value in the next year, according to an analysis of USDA data. Rising land values can help bolster farm balance sheets even if crop prices fall.
For a table of of land values by state, click here.
State by state, the picture is varied.
Missouri saw the largest gain in values, which includes farmland, cropland and buildings on agricultural properties. The figure rose 10 percent to $3,700 an acre. The Corn Belt region, which includes Missouri, remained the nation's most expensive, at $6,430 an acre.
The biggest drop was in Kansas, where values declined 2.7 percent to $1,800 an acre. States that are major growers of wheat, including Minnesota, North Dakota and South Dakota, tended to see declines, while states dominated by pasture, such as the Southern Plains states of Texas and Oklahoma, saw gains. Nationwide, cropland values rose 1 percent, while pasture increased 3 percent.
The land gain comes at a grim time for farmer revenues. Farm income may drop 6.7 percent this year to $59.5 billion, according to USDA forecast in February. That was before tariffs on U.S. soybeans, almonds and other crops began to impact export revenue. The agency will update the profit outlook at the end of this month.
To contact the reporter on this story: Alan Bjerga in Washington at abjerga@bloomberg.net
To contact the editors responsible for this story: Simon Casey at scasey4@bloomberg.net, Millie Munshi, Patrick McKiernan