Emerging Market Dollar-Credit Binge Extends to $3.7 Trillion
Emerging Market Dollar-Credit Binge Extends to $3.7 Trillion
(Bloomberg) -- Here's a reminder of emerging-market fragility as global financial conditions tighten: their dollar burdens are higher than ever and still rising.
Credit issued to developing-economy borrowers excluding banks has surged to $3.7 trillion by the end of March, fueled by a 16 percent year-on-year rise in new debt supply, the Bank for International Settlements said on Monday. Close to $500 billion comes from China, by far the biggest single issuer, with African and Middle Eastern nations also rapidly increasing their borrowing.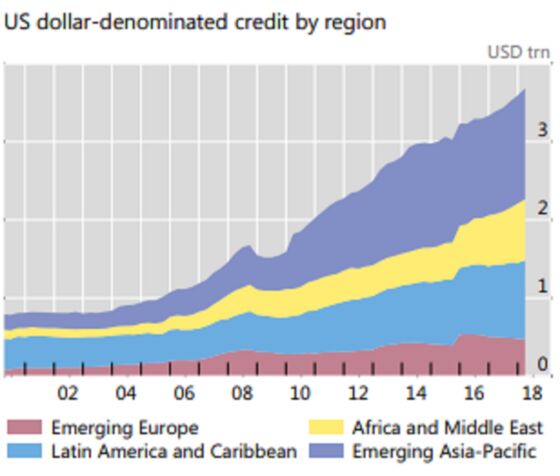 The latest numbers underscore the relentless boom in the dollar credit cycle, even as investors fret over rising borrowing costs and an upswing in the U.S. currency. The premium money managers demand to hold developing-economy dollar bonds over Treasuries rose to the widest since 2016 last month before easing in recent weeks.
The international use of the dollar is likely to increase further. Chinese companies and banks sold dollar bonds at a record pace last year and underwriters expect growth in the coming years to continue in part because the greenback helps fund acquisitions and investments abroad.
The BIS has long warned that overseas debt loads may prove unsustainable as global interest rates normalize. Despite a tumultuous year for emerging-market assets, defaults remain relatively low. The trailing 12-month speculative-grade default rate was just 1.1 percent at the end of April, compared with 3.2 percent for the U.S., according to S&P Global Inc.
To contact the reporter on this story: Natasha Doff in Moscow at ndoff@bloomberg.net
To contact the editors responsible for this story: Samuel Potter at spotter33@bloomberg.net, Sid Verma, Cecile Gutscher