CBS to Probe Misconduct Allegations Against CEO Moonves
(Bloomberg) -- CBS Corp., already embroiled in a legal battle with its controlling shareholder, will investigate claims of sexual misconduct expected to be leveled against Chief Executive Officer Leslie Moonves.
The allegations in a forthcoming New Yorker article by Ronan Farrow involve unwanted touching and kissing incidents that go back, in part, more than 20 years, the Hollywood Reporter said, citing people with knowledge of the matter it didn't identify. Farrow was among the reporters who first broke news on the sexual-misconduct allegations against Harvey Weinstein last year.
In a statement, CBS said it will take any allegations seriously and that independent directors of the company would investigate and take action if necessary. Citing the ongoing legal fight with Shari Redstone's National Amusements, CBS's controlling stockholder, the broadcaster also said management has the full support of its independent board members.
Moonves, 68, is one of the most powerful figures in Hollywood. He would be among the biggest names to face sexual misconduct allegations that have surfaced in the wake of New Yorker and New York Times articles that revealed widespread claims of abuse. Investors and executives see him as the architect of the company's success and would view his departure as a severe blow.
Shares of CBS fell 6.1 percent to $54.01 at the close in New York. They were down 2.5 percent this year through Friday. Viacom Inc., also controlled by the Redstones, rose 4.6 percent to $29.35. CBS fired longtime on-air host Charlie Rose in November over sexual harassment allegations.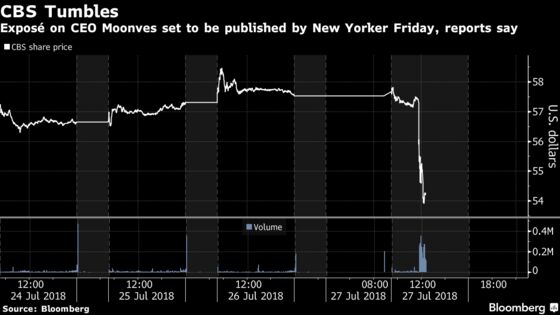 CBS is embroiled in litigation stemming from the Redstone family's efforts to merge the company with Viacom. CBS rejected that move and took steps to issued new shares in an attempt to dilute the family's voting control. Those matters are now in court.
Through a spokeswoman, Redstone said Friday she hopes the investigation into sexual misconduct will be "thorough, open and transparent." The statement also said, "The malicious insinuation that Ms. Redstone is somehow behind the allegations of inappropriate personal behavior by Mr. Moonves or today's reports is false and self-serving."
Farrow urged people not to read too much into "secondary sources" until his work is published. "You're often not getting the full or correct story -- especially in cases where parties have an interest in downplaying or otherwise spinning," he said on Twitter.
--With assistance from Gerry Smith and Nancy Moran.
To contact the reporters on this story: Christopher Palmeri in Los Angeles at cpalmeri1@bloomberg.net;Lucas Shaw in Los Angeles at lshaw31@bloomberg.net
To contact the editors responsible for this story: Nick Turner at nturner7@bloomberg.net, Rob Golum