The Bear Market in 2-Year Treasuries Turns Two
The Bear Market in 2-Year Treasuries Turns Two
(Bloomberg Opinion) -- By at least some measures, investors in two-year U.S. Treasuries have never experienced as much pain as they have over the past two years.
Since global bonds reached a collective peak in July 2016, short-dated Treasuries have experienced a bear market. Two-year notes have declined in price for eight consecutive quarters, the longest losing streak in at least three decades, according to ICE Bank of America Merrill Lynch data. Yields at two-year Treasury auctions have increased month-over-month for 19 of the past 22 sales. That all led up to Tuesday's result: $35 billion of notes priced to yield 2.657 percent, the highest in a decade.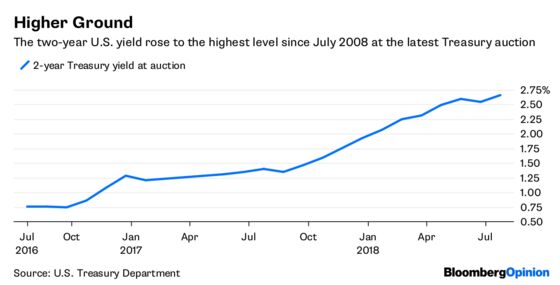 Market anniversaries are often unremarkable, but in this case it's worth remembering how far the $15 trillion Treasury market has come. In July 2016, when the two-year yield fell to as low as 0.53 percent, some investors were talking about a 1 percent yield for 10-year Treasuries. After all, trillions of dollars of sovereign debt across the world had negative yields. The idea that interest rates could move higher in the U.S. was starting to seem like a long shot.
Six rate hikes from the Federal Reserve later, the Treasury market is showing few signs that central bankers will have to slow down anytime soon (perhaps to the chagrin of the president). The spread between the two-year U.S. yield and the upper bound of the Fed's target range is about 64 basis points, right around the 2018 average. The difference represents the buffer that bond traders are building in for rate increases. If that gap started to narrow, it would be a telltale sign that that investors are betting the Fed is almost done tightening. But it's not.
Of course, a sell-off in Treasuries is much different from a decline in equities or commodities because a large portion of a bond investor's total return comes from interest. In fact, never in the history of Bank of America's data have two-year Treasuries posted an annual loss when factoring in coupon and principal payments. They're flat so far in 2018. 
It's no secret that the short-end of the Treasury curve is getting interesting. Rick Rieder at BlackRock Inc., for one, has been touting the allure of short-dated U.S. debt since the end of 2017, when two-year yields were less than 2 percent. Now almost a full percentage point higher, others are warming to that view: the bid-to-cover ratio at Tuesday's auction rose to the highest level since January. Add to that the reminder in recent days about the volatility of longer-term Treasuries — 30-year yields climbed a combined 13 basis points on July 20 and 23, good for a 2.5 percent loss. That's perhaps why a market luminary like Goldman Sachs Group Inc. senior investment strategist Abby Joseph Cohen says she's more concerned about bonds than equities. 
Times have been tough over the past two years at the short-end of the yield curve, sure, but it has never truly saddled investors with steep losses. If that's the worst it'll get, maybe some parts of the bond market aren't so worrisome after all.
To contact the editor responsible for this story: Daniel Niemi at dniemi1@bloomberg.net
This column does not necessarily reflect the opinion of the editorial board or Bloomberg LP and its owners.
Brian Chappatta is a Bloomberg Opinion columnist covering debt markets. He previously covered bonds for Bloomberg News. He is also a CFA charterholder.
Get Your
Daily Newsletter
Get market moving news, top news & compelling perspectives
---