Trump Blasts Powell's Rate Hikes, Trespassing on Fed's Independence
"I'm not thrilled" the Fed is raising borrowing costs and potentially slowing the economy, Trump said.
20 Jul 2018, 4:35 PM IST
(Bloomberg) -- President Donald Trump criticized the Federal Reserve's interest-rate increases, breaking with more than two decades of White House tradition of avoiding comments on monetary policy out of respect for the independence of the U.S. central bank.
"I'm not thrilled" the Fed is raising borrowing costs and potentially slowing the economy, he said in an interview with CNBC broadcast Thursday. "I don't like all of this work that we're putting into the economy and then I see rates going up."
The dollar relinquished gains from earlier in the day and Treasury yields dropped following the president's remarks.
"I am not happy about it. But at the same time I'm letting them do what they feel is best," Trump said.
The Fed has raised interest rates five times since Trump took office in January 2017, with two of those coming this year under Chairman Jerome Powell, the president's pick to replace Janet Yellen. In the interview, Trump called Powell a "very good man."
Personal compliments aside, Trump aimed his complaints at a government agency that enjoys a degree of independence from politics because its funding isn't subject to congressional appropriations.
Powell, nominated by Trump and confirmed by the Senate with broad bipartisan support, has a four-year term as chairman that ends in 2022. According to the Federal Reserve Act, a Fed chairman can only be removed from office before his or her term ends "for cause," which isn't defined.
Most developed-world central banks are given a degree of independence from governments so monetary policy doesn't succumb to the whims of politicians. In emerging markets such as Turkey, the government of President Recep Tayyip Erdogan has felt no such restraint.
"This is such a risky thing for the Fed, and for the president, and for central bank independence," said Peter Conti-Brown, a Fed historian at the University of Pennsylvania's Wharton School. Now, even if the Fed pauses its rate-hike campaign for valid economic reasons, it could look politicized. There will be many "who see that as the Fed yielding to a combative president," Conti-Brown said.
Powell addressed Congress this week and told lawmakers that "for now -- the best way forward is to keep gradually raising the federal funds rate." Fed officials have penciled in two more hikes this year. The probability investors assigned to a Fed rate hike in September was little changed near 90 percent after the president's remarks, while the probability of a December hike was also holding near 65 percent, according to trading in federal funds futures.
Fed spokeswoman Michelle Smith declined to comment. Powell last week told American Public Media's "Marketplace" program that the Fed has "a long tradition here of conducting policy in a particular way, and that way is independent of all political concerns."
White House spokeswoman Lindsay Walters said in an emailed statement that the president "respects the independence of the Fed," adding that his views on rates "are well known and his comments today are a reiteration of those long-held positions."
Trump's remarks come as the U.S. economy enjoys its second-longest economic expansion on record which has seen unemployment fall close to the lowest levels in 50 years. While the Fed has raised rates, they remain low on a historical basis.
The current target range for its policy benchmark is 1.75 percent and 2 percent. Subtracting inflation, the rate is slightly negative in real terms and still "accommodative" for growth and borrowing, as the Fed said in its June statement.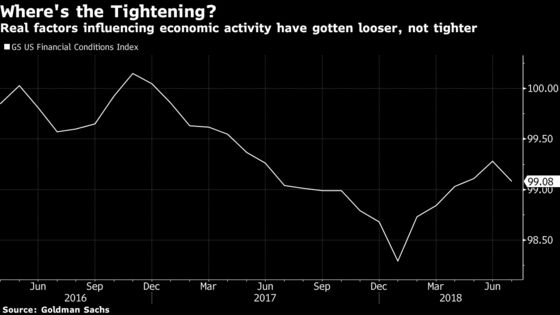 Indeed, overall financial conditions in the U.S. are largely unchanged since Trump took office in January 2017 despite the Fed's gradual tightening campaign, and looser than they were on average in 2016, according to a Goldman Sachs index.
It wasn't the first time in history the Fed has faced pressure from a U.S. president. But the past three administrations under Bill Clinton, George W. Bush and Barack Obama have refrained from publicly commenting on policy decisions.
"The Fed's independence from short-term political pressures is critical to enabling it to take the longer-run perspective that is essential for achieving its legislated dual mandate for jobs and price stability," said Donald Kohn, a former Fed vice chairman who is now a senior fellow at the Brookings Institution in Washington.
It's long been speculated that the taboo of commenting on U.S. monetary policy could change under Trump, who slammed the Fed during his election campaign and has demonstrated repeatedly his willingness to flout the conventions and sensibilities of establishment Washington.
While it's been many years, the White House has also been known to exert other forms of pressure. In December 1965, Lyndon Johnson famously summoned Fed Chairman William McChesney Martin to his ranch in Stonewall, Texas, to confront him over Martin's decision to lift rates. Martin held his ground.
The same couldn't be said for Arthur Burns under Richard Nixon. Oval Office tapes later revealed that Nixon demanded Burns goose the economy with low rates ahead of the 1972 election. When Burns didn't immediately cooperate, the White House planted a false story in the press that Burns was seeking a big pay raise, according to a book by Nixon speech writer William Safire. Eventually Burns relented, aiding Nixon but also helping to feed runaway inflation that dogged the U.S. economy for nearly a decade.
The last known example of U.S. presidential strong-arming came when George H. W. Bush was fighting for re-election. Bush's White House pushed Alan Greenspan behind the scenes on rates and openly called on the Fed to lower its benchmark in June 1992. Greenspan did lower rates 13 times over 1991-92, but slowed the pace of cuts in the latter year, much to the White House's annoyance.
--With assistance from Benjamin Purvis, Rich Miller and Justin Sink.
To contact the reporters on this story: Christopher Condon in Washington at ccondon4@bloomberg.net;Craig Torres in Washington at ctorres3@bloomberg.net;Jeanna Smialek in New York at jsmialek1@bloomberg.net
To contact the editors responsible for this story: Alister Bull at abull7@bloomberg.net, Brendan Murray
Get Your
Daily Newsletter
Get market moving news, top news & compelling perspectives
---