Altria Thinks Low-Nicotine Cigarettes Could Lead to About a Million Lost Jobs
(Bloomberg) -- Altria Group Inc. says lower nicotine means lower employment -- to the tune of almost a million jobs.
As the comment period on proposed new rules for cigarettes came to an end Monday, the tobacco industry has weighed in. It's predicting dire consequences if the Food and Drug Administration carries out a plan it's considering that would lower nicotine in cigarettes by as much as 97 percent.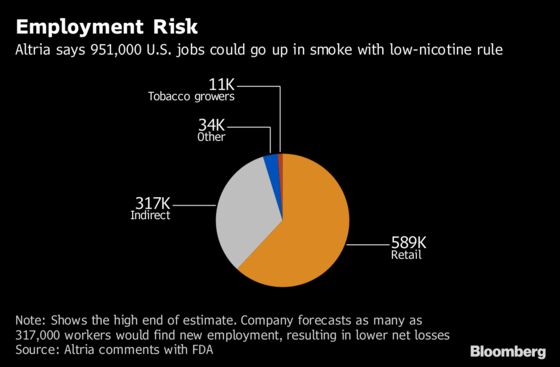 Altria, the maker of Marlboros for the U.S. market, said the measure would cause the loss of as many as 951,000 jobs, directly and indirectly, throughout the U.S. The Richmond, Virginia-based company, which had about 8,300 employees as of the end of 2017, estimates that tobacco growers, manufacturers, wholesalers, retailers and distributors would all feel the impact.
By Altria's calculations, the nation's unemployment rate could rise from 3.9 percent to 4.5 percent if a very-low nicotine standard were put in place. A slight pick up in employment at e-vapor retailers would help offset job losses, but not in a substantial way, the company said. It declined to forecast its own job losses when contacted by Bloomberg News.
ITG Brands, the producer of Winston and Kool cigarettes, also commented, arguing that the proposed changes would give underage users greater access to cigarettes because a lower nicotine standard would create a robust black market. Meanwhile, Reynolds American executive Michael Ogden said in comments that it could take more than 20 years for the company to meet the low-level nicotine requirement, depending on the what the FDA's rules look like.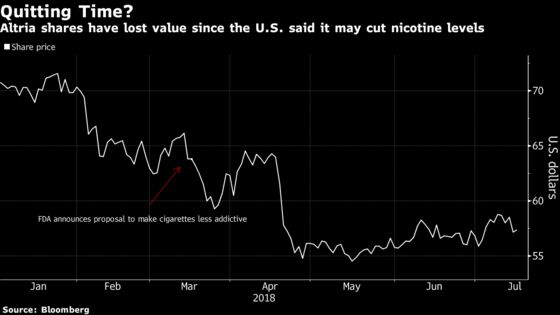 The FDA says the measure would give addicted users "the choice and ability to quit more easily." The agency estimates that mandating that cigarettes contain minimally or non-addictive levels of nicotine would prevent more than 33 million people, primarily youth and young adults, from becoming regular smokers by the end of the century.
To contact the reporter on this story: Uliana Pavlova in Chicago at upavlova3@bloomberg.net
To contact the editors responsible for this story: Anne Riley Moffat at ariley17@bloomberg.net, Jonathan Roeder