Nearly Half of Americans Battling to Lose Weight: CDC Data
(Bloomberg) -- An estimated 49.1 percent of American adults battled to lose weight from 2013 to 2016, according to the U.S. Centers for Disease Control and Prevention, with those between 40 and 59 years doing the most huffing and puffing.
Exercise, eating less, consuming more fruits and vegetables and drinking more water were the most common strategies. The least common were skipping meals and cutting down on fatty foods.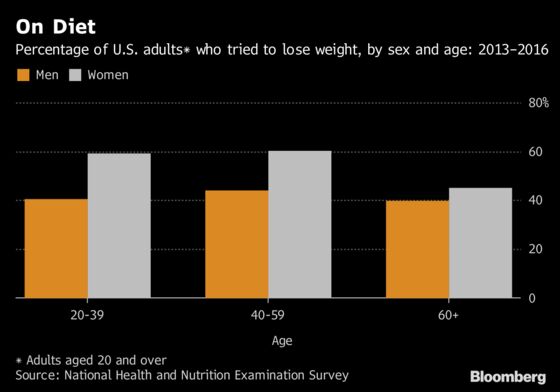 Weight loss efforts increased with income
56.4 percent of women tried to lose weight versus 41.7 percent of men
66.7 percent of adults with obesity, 49 percent of overweight adults and 26.5 percent of underweight or normal weight adults tried to lose weight
To contact the reporter on this story: Alex Tanzi in Washington at atanzi@bloomberg.net
To contact the editors responsible for this story: Kristy Scheuble at kmckeaney@bloomberg.net, Vincent Del Giudice