Manhattan Homebuyers Demand Bargains, Walk Away—Anything But Overpay
Manhattan Homebuyers Spoiled for Choice Drive Bolder Bargains
(Bloomberg) -- In his hunt for an apartment on Manhattan's Upper West Side, Hal Walker found the perfect one-bedroom in an Art Deco building across from Central Park. It had languished on the market for almost six months.
Walker bid $30,000 below the $865,000 asking price, then refused the seller's counteroffer. Yet he's moving in next week.
"Would you lose sleep tonight if you lost this apartment?" Walker recalled his broker asking. "I said no."
Manhattan homebuyers are getting bolder these days, demanding bargains or walking away from deals in a market where inventory is swelling. In the three months through June, purchases fell 17 percent from a year earlier to 2,629, according to a report Tuesday by appraiser Miller Samuel Inc. and brokerage Douglas Elliman Real Estate. That was the lowest tally for a second quarter since 2009, when the global recession chilled deals.
Of the sales that were completed in the quarter, 54 percent were for less than the asking price. Another 37 percent of transactions closed at the asking price, but often that figure had already been reduced. Combined, the share of purchases without a premium was the biggest since the end of 2012.
"It's about perception -- that the market went way up, and it went way up real fast, and it's not happening anymore, and I am not going to be the fool who gets burned by overpaying," said Steven James, Douglas Elliman's chief executive officer for New York City. Buyers "do believe that over time, the market will go up, but it's not going up right now."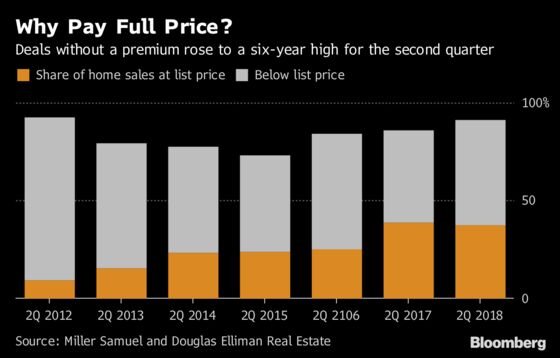 The median price for all homes that changed hands in the quarter dropped 7.5 percent to $1.1 million, the second consecutive year-over-year decline, the firms said. There were 6,985 homes listed for sale at the end of June, up 11 percent from a year earlier and the most for a second quarter since 2011 as properties came to the market faster than buyers closed deals.
The sales slump is likely to continue this year. Contracts to buy homes fell 9 percent from a year earlier to 3,108, the lowest number of pending deals in a second quarter since 2011, brokerage Corcoran Group said in its own report Tuesday.
"'We are in a price correction, there's no doubt about that," said Hall Willkie, co-president of brokerage Brown Harris Stevens. "Buyers are very resistant to paying anything that isn't justified."
Price-sensitive shoppers are looking at recent sales within a building, not as a gauge for what to pay, but as a barometer for how much below that they should bid, Willkie said.
"There was a time for many years that if buyers had the money and they were asked to pay 10 percent above comparables, they said, 'You know what? It will be worth that next year or in two years, why not?'" Willkie said. "That mentality is gone."
Brown Harris Stevens, in a joint report Tuesday with Halstead, said previously owned Manhattan apartments sold at the biggest discounts off their asking prices in five years in the second quarter.
On the Upper East Side, the median price for three-bedroom resales tumbled 16 percent from a year earlier to $3.075 million, according to the report. Similar apartments on the Upper West Side sold for a median of $3.13 million, down 6 percent. In that neighborhood, the median for two-bedroom resales dropped 5 percent to $1.49 million, and the one-bedroom median fell 4 percent to $785,000.
That's why Roger Gillen, the Brown Harris Stevens broker who advised Hal Walker in his apartment hunt, told his client he could play it cool.
Walker, 67, was working with Gillen to relocate to the Upper West Side -- closer to the cultural attractions he frequents -- after more than a decade of living in Jackson Heights, Queens. They quickly zeroed in on a renovated one-bedroom co-op on Central Park West at 92nd Street, with a glittering lobby that made him feel "like you're walking into a Fred-and-Ginger movie," said Walker, a retired creative director for the Ketchum public-relations firm.
The owners first listed the unit in November for $875,000, then lowered the price in March to $865,000. Walker offered $835,000, and the sellers countered with $850,000.
"I said no," Walker recalled. He got the apartment anyway, closing on the deal last month at his bid price.
"You just have a sense that the owner wants to get rid of it," he said.
To contact the reporter on this story: Oshrat Carmiel in New York at ocarmiel1@bloomberg.net
To contact the editors responsible for this story: Daniel Taub at dtaub@bloomberg.net, Christine Maurus, Kara Wetzel