On Eve of Vote, Only Erdogan Gets TV Time: Campaign Trail Update
(Bloomberg) -- President Recep Tayyip Erdogan's biggest rival appealed to a massive rally in Istanbul in the campaign's final hours. You just wouldn't know it watching state television.
Muharrem Ince, a 54-year-old former physics teacher, addressed what his CHP party claimed was a crowd of 4 million in the Maltepe district on the Asian side of the Bosporus. But the government's TRT Haber stayed with its regular programming, interrupting it only when Erdogan addressed smaller groups in his travels around Istanbul.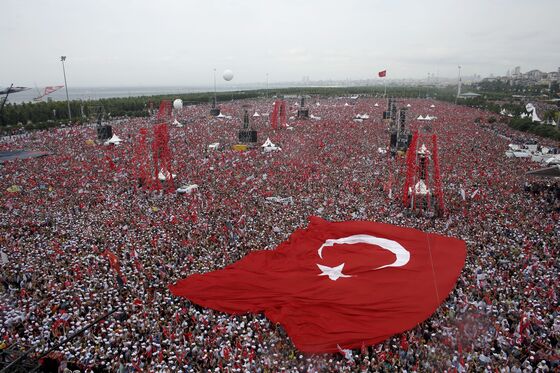 Both candidates focused on getting out the vote. For the incumbent, scoring more than 50 percent would eliminate the need for a runoff and install him in a newly powerful post of president, extending a rule that began in 2003. The opposition's aim is to force a second round in two weeks.
Ince portrayed Sunday's decision as a stark choice for voters anxious for change, particularly as the economy sputters. "If Erdogan wins tomorrow evening, panic will return to markets and interest rates will rise. Your phones will continue to be wiretapped," Ince said. "If Ince wins, the lira will appreciate, interest rates will fall."
Shortly after he began, Ince was given a piece of paper by an aide on the platform. Reading from the note, Ince said one of the live broadcast feeds through a government-run satellite was down, calling it "sabotage" by Erdogan and his allies, repeating a claim the party has made over unfair media coverage.
On Friday, Ilhan Tasci, a CHP-appointed member of TV watchdog RTUK, said Erdogan and his allies got 181 hours of air time from TRT channels, compared with just under 16 hours for Ince and his backers.
"Erdogan, you're going away. For two minutes, be a man and go like a man," said Ince, whose Istanbul event was the third in three days to attract a massive crowd, following rallies in Izmir and Ankara.
Roughly 55 kilometers (34 miles) to the west on Istanbul's European side, Erdogan, 64, was focused on galvanizing the ruling AK Party's grass roots organization. Erdogan said no one should take victory for granted.
"Take your relatives and friends to the ballot box. Any lethargy there, God forbid, would put us into trouble," Erdogan told thousands in Esenyurt district on Istanbul's European side.
Electioneering was to end at 6 p.m. local time Saturday.
To contact the reporter on this story: Onur Ant in Ankara at oant@bloomberg.net
To contact the editors responsible for this story: Benjamin Harvey at bharvey11@bloomberg.net, James Hertling, Vernon Wessels