Argentine Peso Tumbles Amid Reports of Central Bank Departures
(Bloomberg) -- Argentina's peso tumbled to a record low Thursday amid reports a group of central bank directors will depart from the institution and a truck drivers' strike threatened to disrupt the country's economy.
The peso dropped as much as 5 percent, its biggest decline in one month, to trade at 27.3 per dollar in early afternoon trading. The peso is down more than 30 percent this year, the worst performance in emerging markets.
Declines in the currency accelerated after Argentine columnist Marcelo Bonelli reported that three central bank directors would be resigning from their posts soon. The central bank declined to comment on the report. In another setback for President Mauricio Macri, truck drivers went on a nationwide strike as other labor unions have threatened to join the stoppage.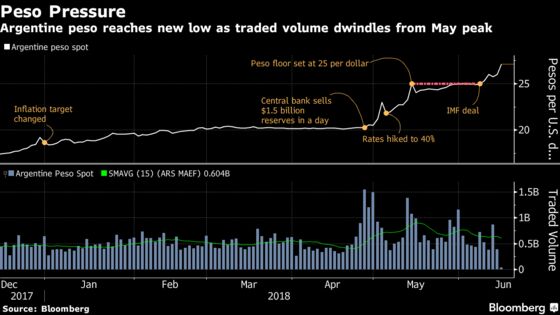 Analysts said Argentine officials can't defend the peso much more without deeper economic reforms and question Macri's ability to promote significant cuts in government expenditures next year while he vies for re-election.
"The central bank can't really defend the peso much longer, nor should it," said Win Thin, global head of emerging markets at Brown Brothers Harriman. "A lot will depend on whether Argentina can stick with the (IMF) program."
Argentina secured a $50 billion stand-by arrangement from the International Monetary Fund last week to help restore investor confidence as the government takes aim at double-digit inflation and a widening budget deficit. On Wednesday, the Finance Ministry pledged to sell $7.5 billion of the IMF funding to cover budgetary expenses. Some analysts also saw it as an attempt to stabilize the peso.
To contact the reporter on this story: Patrick Gillespie in Buenos Aires at pgillespie29@bloomberg.net
To contact the editor responsible for this story: Vivianne Rodrigues at vrodrigues3@bloomberg.net